Sweet Counsel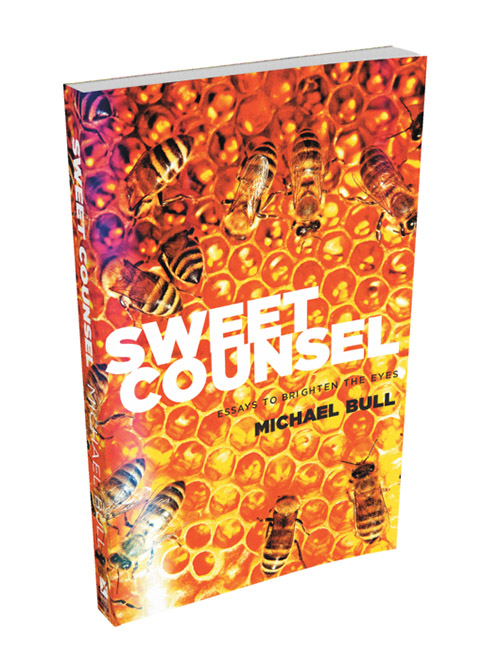 Sweet Counsel: Essays to Brighten the Eyes is now available on amazon. It is a collection of very polished and reworked blog posts along with some new material. Here is the introduction…
BITTERSWEET
"Gracious words are like a honeycomb,
sweetness to the soul and health to the body."
(Proverbs 16:24)
If, in the language of biblical symbols, gold is solid light and oil is liquid light, then honey is liquid gold.
As the golden Ark contained the Ten Words, and the oil of the Lampstand lightened the path of the king, so honey is the Word of God in edible form. In the wilderness, manna tasted like honey wafers. In Canaan, the law of the Lord was even more desirable than its precious honey (Psalm 19:10; 119:103).
Bees are used to represent the hosts of the Land, a swarm possessed of a single mind, the Canaanites whose labors would be possessed by Israel. The gift of honey was part of Israel's bittersweet inheritance. Thus bees and honey together perfectly picture the plunder and plagues meted out to Israel under the Law of Moses as blessings and curses, possession or oppression.
You shall inherit their land, and I will give it to you to possess, a land flowing with milk and honey. (Leviticus 20:24)
The name of Deborah, "a mother in Israel" who led a successful counterattack against the forces of Jabin king of Canaan and his military commander Sisera, means "bee."1 For Israel, milk and honey are symbols of the promise of the motherland, the favor of the Father as edible gold for His faithful Son. But not all of Israel's fathers were good.
Then Jonathan said, "My father has troubled the land. See how my eyes have become bright because I tasted a little of this honey." (1 Samuel 14:29)
It is interesting that honey is found in the mouth of the blessed bride (Song of Solomon 4:11) and on the lips of the cursed harlot (Proverbs 5:3), images of a Covenant kingdom found faithful or unfaithful.
The ministry of bees also illustrates the eternal conversation between the Father and the Son by the Spirit. The Father commands and the Son brings His plans to fruition (John 1:3). The words of the Lord structure all reality, but it is obedience to them which brings life and glory. Just like the Creation of the world, the production of honey is a twofold process of forming and filling. Honeycomb is a many-roomed house. It is filled with glory through the "there-and-back-again" duties of faithful workers who "pollenate" the nations.
Theology should be a similar process. Sadly, so much of it is merely a haphazard collection of separate facts, ideas and opinions, without any consciousness of the wonderful "hive" pattern that is obviously inherent in everything if we have eyes to see.2
The fractal "matrix" of the Bible is a framework for understanding the world, and the Covenantal shape of all Scripture is the honeycomb within which all truth is contained. Every theological or natural observation is part of a process of transformation, which finds its origin in the to-and-fro of the Trinity. To be truly "filled," theology must first be "formed" by the patterns in the words and works of God.
Douglas Wilson speaks of the "copiousness" of the writer. This is the practice of collecting and recording ideas for later use, much as a bee collects pollen.
Keep a commonplace book. Write down any notable phrases that occur to you, or that you have come across. If it is one that you have found in another writer, and it is striking, then quote it, as the fellow said, or modify it to make it yours.3

When you collect phrases, points, metaphors, and whatnot in this way, you are, as Cicero used to put it, loaded for bear. By linking "loaded for bear" up with Cicero, incidentally, I am providing another example of the previous point. But this last point is an important part of what the ancient rhetoricians called copiousness.

One time G.K. Chesterton, the rolypologist, was patted on the stomach by his adversary, George Bernard Shaw, a beanpole of an infidel, and was asked what they were going to name the baby. Chesterton replied immediately that if it was a boy, John, if a girl, then Mary. But if it turned out to only be gas, they were going to name it George Bernard Shaw. Now we hear that story and marvel at his amazing quickness. And it may well have been such, a prodigy of the moment. But I also wouldn't be a bit surprised to find out that Chesterton had that particular pistol loaded beforehand, and concealed on his person. When copiousness is active, you not only know how to respond in the moment, but you can also see the moment coming, and prepare for it beforehand.

Your commonplace book is just a staging area. You are collecting things in order use them, to get them into your mind and heart, and thence into your writing.4
The writer's life is a scavenger's life. This should go also for pastors, teachers, fathers and mothers, and in fact any Christian: all our ministry is didactic and apologetic, discipleship and witness. We collect that we might not only pollenate but also build the kingdom. This means that copiousness alone is not enough. Only kingdom-shaped hearts can hold honey.
This process is exactly what is going on in the wisdom literature and the prophets, and I am constantly amazed at our failure to recognize it. Theirs was a biblical copiousness. Their guns were loaded, their pumps were primed, well before these remarkable minds fired and mouths gushed. All the writers had been Timothys waiting for a Paul to join the dots of the Law with the stylus of the Spirit. Every past event was ammunition for Israel's future. This explains why the book of Revelation is an explosive spray of machine gun fire from a carefully collected and meticulously arranged cache of Old Testament texts.
Biblical copiousness is one thing we love about C. H. Spurgeon. The Bible was his muse. The biblical texts are high walls but they are not lonely, cold, disjointed bricks. Spurgeon preached from the fiery turrets of inspired literature with apparent ease while modern boffins do dog paddle below him in a moat of footnotes and call it scholarship. To these illiterati, the "apostolic hermeneutic" is a marvel and a mystery, an impenetrable keep, when it is simply the result of their biblical copiousness. The cinematic Covenantal ironies of the prophets are lost on the blind guides of today. Jesus and His prophets are far cleverer—and funnier—than even Chesterton. But so many of us do not get their inspired, bittersweet jokes.
Jesus, the Word, created a world where everything "speaks." Every physical object is also mirror and metaphor and lyric and rant; every Covenant-historical event is a self-referencing innovation. Our Lord is the Master of Allusion, and we, as we read the Bible, are to be His commonplace books.
If God can quicken and glorify stone by writing on it with His own finger, then how much more will human hearts be glorified, quickened, made alive, and regenerated when the finger of God, the Holy Spirit Himself, writes on them? What is it to be born again? It is to become the Holy Spirit's commonplace book.5
The defining feature of the New Israel is legal witness, and as you may be aware, the Greek word for witness is the source of our word "martyr." Honey from the hive is life and death to those who hear it, for it ministers a blessing to the head and a curse to the body. It brightens the eyes but is a sting to the flesh. This was the case with Jonathan, and also with Ezekiel and John.
And he said to me, "Son of man, eat whatever you find here. Eat this scroll, and go, speak to the house of Israel." So I opened my mouth, and he gave me this scroll to eat. And he said to me, "Son of man, feed your belly with this scroll that I give you and fill your stomach with it." Then I ate it, and it was in my mouth as sweet as honey. (Ezekiel 3:1-3)

And I took the little scroll from the hand of the angel and ate it. It was sweet as honey in my mouth, but when I had eaten it my stomach was made bitter. (Revelation 10:10)
Ezekiel and the Revelation are sister books, following the same structure and serving the same purpose: the destruction of Israel, a witness to the nations, and the resurrection of Israel, renewed and made heir to a greater glory. Their message was both bitter and sweet, law and grace, plagues and plunder, death and life. John the Baptist ate locusts and wild honey because his prophecies to a lawless king would bring the consuming armies of Rome and a heavenly country for the "beheaded" saints.
When Christ shared bread and wine with His disciples at Passover, He began their commission as witnesses of things they had heard and seen. The Lord's supper is a bittersweet scroll, honey with a sting, manna for a mustering host. Christ brightens our eyes that we might bear His two-edged sword. We taste and see that He is good, and go out to take possession of His inheritance, the nations.
I hope these short essays not only brighten your eyes but kindle the fire in your belly.
Michael Bull
Katoomba, September 2014
______________________________________________
1 See also the discussion concerning Samson's honey in "Out Of The Eater," God's Kitchen: Theology You Can Eat & Drink, 289.
2 See the charts at the end of this book.
3 Douglas Wilson, Seven Basic & Brief Pointers for Writers, www.dougwils.com
4 Douglas Wilson, Uncommon Commonplaces, www.dougwils.com
5 Douglas Wilson, Against the Church, 132.
CONTENTS
INTRODUCTION: BITTERSWEET
CREATION
1 THIS TIME IT'S PERSONAL
2 WAR OF THE WORLDVIEWS
3 JENGA BIBLE
4 RETURN OF THE RAVEN
5 THE ETERNAL PEOPLE
COVENANT
6 IMAGES OF GOD
7 SIMPLY IRRESISTIBLE
8 INTERNAL LAW
9 CASH AND COVENANT
10 I WILL KILL HER CHILDREN WITH DEATH
BIBLICAL THEOLOGY
11 BETTER ANGELS
12 DOGS AND PIGS
13 A TONGUE OF GOLD
14 SCALES OF JUSTICE
15 SNAKES AND CHAINS
SECULARISM
16 ARMED WITH DEATH
17 NO COMMON GROUND
18 GOD GAVE THEM UP
19 LAMECH'S PATSY
20 THE EXORCISM OF CHRIST
HERMENEUTICS
21 THE PERILS OF DEEP STRUCTURE
22 TECHNICIANS AND INTUITIONS
23 CURING THE MINDBLIND
24 MERCURY RISING
25 TOMBOYS AND TOTEMS
COVENANT-LITERARY TEMPLATES