Feasts in Jeremiah 9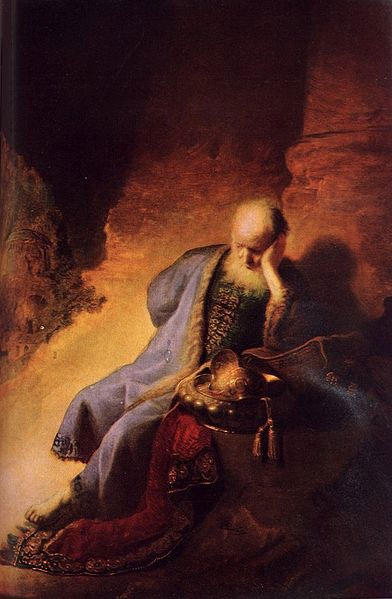 Sabbath (creation – Genesis 1:1′s "in the beginning" is literally "at the head")
Oh that my head were waters,
   and my eyes a fountain of tears,
Passover (often mourning at this step)
that I might weep day and night
   for the slain of the daughter of my people!

Firstfruits (building Tabernacle, Altar-Land, ascension of the head)
Oh that I had in the desert
   a travelers' lodging [dwelling?] place,
that I might leave my people
   and go away from them!

Pentecost (giving of the Law, wilderness wandering, mighty men, the serpent, harvest)
For they are all adulterers,
   a company of treacherous men.
They bend their tongue like a bow;
   falsehood and not truth has grown
   strong [mighty?] in the land;
for they proceed from evil to evil,
   and they do not know me, declares the LORD.

Trumpets (multitudes, army, brothers, witness, the united body)
Let everyone beware of his neighbour,
   and put no trust in any brother,
for every brother is a deceiver,
   and every neighbour goes about as a slanderer.

Atonement (day of covering, national fast and confession of sin)
Everyone deceives his neighbour,
   and no one speaks the truth;
Tabernacles (ingathering) – the great Sabbath
they have taught their tongue to speak lies;
   they weary themselves committing iniquity.
Heaping oppression upon oppression, and deceit upon deceit,
   they refuse to know me, declares the LORD.
Jeremiah, as Christ the Prophet, wishes to be the Spirit hovering over the waters at Creation; he desires to be the passover for the slain firstborn; and he wishes to ascend the mountain of God. This all concerns the faithful head.
The remainder of this passage concerns the unfaithful body. Perhaps there is also the idea of harlotry in the wilderness (step 4) and harlotry in the Sabbath (bridal) Temple (step 7) because Israel will "know" anyone but her Husband, outdoors or indoors, threshingfloor or palace.
Faithful head and unfaithful body says broken Covenant.
At this final step, besides a Sabbath-breaking "labour" of sin and a false "gathering", we might also have, very subtly, Solomon's breaking of the kingly laws: lies (false Ark gold), iniquity (relational evil, false marriages), and oppression (the chariots of Egypt): Word, Sacrament and Government.