Feasts in Jeremiah 1
or Jeremiah's Seven Thunders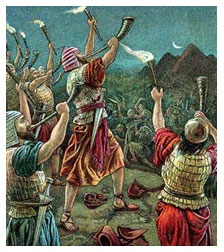 This feasts pattern covers Jeremiah 1:4 – 2:1 so the chapter division is a bit off. After the introduction (vv. 1-3), the Lord speaks. Jeremiah then speaks as Yahweh's representative from 2:2. He is a Trumpets warning before Nebuchadnezzar's "Day of Atonement" and the enforced sabbath of the Land.
You must be logged in to see the rest of this post.
Join now for a year for $15!
__________________________________________
[1] Pentecost, Day 4, is the governing lights. It is the "sun, moon and stars" thrones. The Lord's throne is polar north. Babylon will be an army sent by God.
[2] The 5 point Covenant pattern (Word) expands to this 7 point feasts pattern in history. See
Lambs in Limbo
.
[3] See
Dashing Her Little Ones
.
[4] The Sinai Covenant, the ascension of the head, is always a betrothal, with the marriage at Tabernacles. See
Marriage as a Promise of Wine
.