Or The Tabernacle in Genesis 3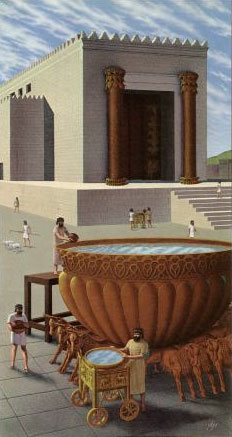 One of the best things you get from James Jordan is a big handle on the Tabernacle.[1] It was a miniature of the creation. It was also a further development of the Garden of Eden, being more glorious than the Garden itself (the trees were now worked timber, and the wood was covered in precious metal).
Jordan's theory that Satan was to be a tutor to Adam and Eve, but fell in the moment he deceived them, finds support in the Tabernacle layout. (Angels tutor God's people throughout the Old Testament.) Satan was the secondary lightbearer, the Lampstand, facing north.
Adam was to be broken bread and poured out wine, the Face of the Man, facing south, the Table of Showbread (the facebread).
Between them, Eve, the mother of all living, was the Altar of Incense. As element 5, Day 5, she is a "multitude" in one body. She is awesome as an army with banners. Women possess all their ova from birth.[2] Continue reading