For A Thousand Years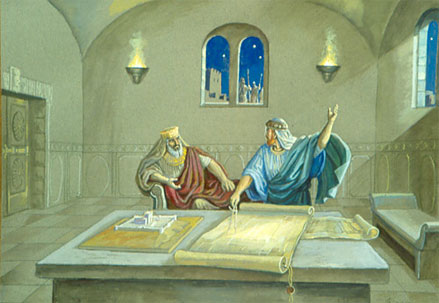 All the names and the numbers in Revelation are symbols based on historical facts. The names are easy. Jezebel, Antipas, Balaam… But we mathematical moderns have trouble taking numbers as symbols. We are only interested in descriptions, not relationships. In the Bible, symbols describe relationships. As David Chilton observes in The Days of Vengeance [PDF], the symbolic value of someone or something is not a description of its nature, but a description of its relationship to someone or something else. Hence, as Jordan observes, Satan is both a dragon and a serpent in Revelation 12. He is a serpent to the Woman and a dragon to her children.
The debate over certain numbers in Revelation is amazing. For the meaning of 666, see here.
The thousand years of Revelation 20 is to be understood in the same way. It's no more tricksy than any allusion to the number 42 being the answer to life, the universe, and everything in The Hitchhiker's Guide to the Galaxy. You have to have read the book to "get it." [1] As Peter Leithart illustrates in Deep Exegesis, the text, among other things, is a joke.
It was a thousand years from the offering of Isaac to the day David purchased the threshing floor of Aruanah. These events occurred on the same site. It was the end of mobile worship. James Jordan's Bible chronology shows that from the completion of the construction of Solomon's Temple to the destruction of Herod's Temple, it was, again, a thousand years. It was the end of Temple worship.
So, based on these beginnings and endings, what does this number mean for the gospel age, governed from heaven by the Son of God and His ascended saints? Once all this has been pointed out, it ain't rocket science.
____________________________________
[1] The answer "42″ was so funny because it was totally bereft of any meaning other than a scientific description.