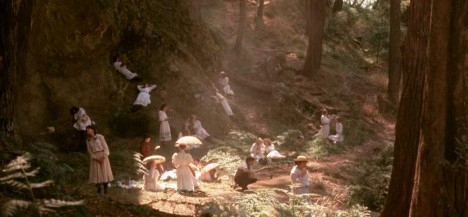 Then they will say to the mountains, "Fall on us!"
and to the hills, "Cover us!" (Luke 23:30)
What we see
and what we seem
are but a dream…
a dream within a dream.
These lines by Edgar Allan Poe, slightly reshaped, are the first spoken words in the classic Australian film, Peter Weir's Picnic At Hanging Rock (1975). Based on a novel by the enigmatic Joan Lindsay, it is an experience that clings to you, not merely because it is so carefully and beautifully made, but also because it is a film with secret blades: it is a mystery without a solution, a horror story without savagery, a nightmare in which all the watches stop at noonday.
On Saturday 14th February 1900, a party of schoolgirls from Appleyard College picnicked at Hanging Rock near Mount Macedon in the state of Victoria. During the afternoon several members of the party disappeared without trace…
(Spoilers follow, but feel free to read on…)
[This post has been refined and included in Sweet Counsel: Essays to Brighten the Eyes.]
Continue reading