Threshing Wheat in the Winepress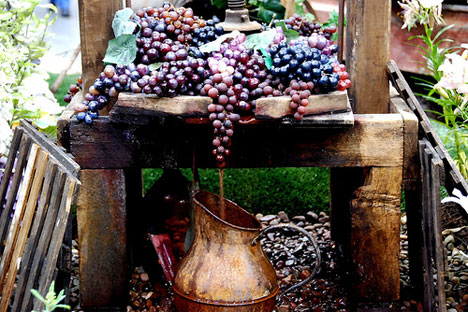 Doug Wilson writes: "In and through the sacraments, God winnows, divides, nourishes, establishes, and gloriously saves. He did this throughout the course of the OT narrative, and He is doing it now." [1]
I agree with this statement entirely, except that the New Covenant body is entirely "priestly." The Table is not primary education, but secondary. It is not the preaching of the gospel to the unconverted, but the memorial of it by the converted.
What I mean is that the regenerate have replaced the priesthood, and those outside the tent have been replaced by the unregenerate, those for whom the regenerate minister. The carnal Jew/Gentile divide has been replaced with a spiritual divide, identified by obedient faith.
Pastor Wilson sees the path from conviction to resurrection as a single salvific process, which it is. But the New Testament consistently breaks it into forming and filling. Baptism is quite literally the watershed moment. It cuts off the old history and begins a new one. It ends Adam's heredity and begins that of Jesus. The external law administered by the Spirit becomes internal law, the indwelling Spirit.
The Table is not for the purpose of conviction but the symbol of Covenant Succession. The way it is presented in the Last Supper—which follows the Covenant pattern—supports this premise.
When Jesus passed the cup, He was passing the baton, the Succession. When we pass the cup, we pass the Succession – we die for one another. The action is a testament, as was Jesus'. The Lord only ever passes the Succession to those who are qualified. The rest are cut off.
The Cup, like baptism, is the ongoing process of receiving the future as a gift because we have judged ourselves and will not be cut off.
Paedosacraments make a terrible mess of the Covenant pattern. The sacraments are not for those being formed, but for those who are filled.
It is the preaching of the gospel that winnows and threshes and brings the first Pentecost. Baptism and Table harvest grapes and olives, the fruit of our righteousness, not the fruit of our loins. It is a more mature harvest.
I really appreciate Pastor Wilson's emphasis on the gospel, but in the New Testament, Baptism and Table always preached the gospel by excluding the unregenerate, just as the Passovers preached by excluding the unIsraelite.
The Bible repeatedly places things within the same Covenant process or structure, and I can't see how this factor can be considered optional. The Reformers and Confession writers weren't very informed on this aspect of biblical theology, so appealing to them isn't really much help.
We must observe the repeated Biblical pattern of forming and filling, both corporately and individually. Where does the New Testament put baptism in its fulfilled Covenant pattern? Where does it put the Table? If we confuse hearing the Word with receiving the Word, as Pastor Wilson does (at least "sacramentally"), we are threshing wheat in the winepress.
If all this sounds strange, you need The Covenant Key.
_________________________________
[1] This quote is taken from his comments in the ensuing discussion.