The Example of Saul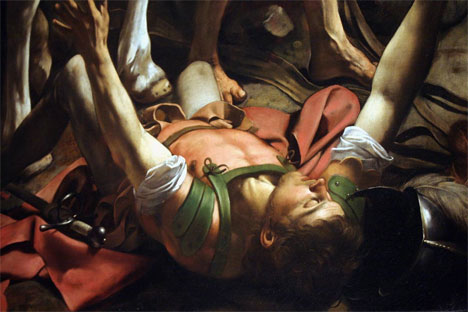 I posted this cycle in response to a comment/suggestion by Steven Opp. It's from Totus Christus. I've learnt since 2009 that the texts contain much more precise structures than I was aware of at the time, but do believe this one still holds water at a general level. And speaking of water, look where Paul's baptism occurs in the passage.
As it was with Moses, Daniel, Jonah and many others, the very structure of Saul's first cycle prefigured what God was going to do through him over the remainder of that Covenant age. It wasn't only the Gentiles who would follow Saul's example.
Creation – Saul was still breathing threats against the church, and asked for letters (anointing) from the High Priest authorising him to retrieve the believers in Damascus to Jerusalem. Saul wanted to turn back the four winds. On his way, a light from heaven flashed around him. It was a better anointing. (Genesis – A New Beginning – the Ark scatters God's enemies)
Division – Saul fell to the ground like a dead man. The Lord asked him why he was persecuting Him. (Exodus – Israel passes under the Sword – the Veil of Death)
Ascension – "Rise and enter the city, and you will be told what you are to do" (Law). (Leviticus – Brought Near to be given a Covenant Mission – Altar & Table)
Testing – The men who travelled with him saw nothing. And Saul was blinded. They led him by the hand and he fasted for three days. (Numbers – Lampstand snuffed out – Israel blinded)
Maturity – Ananias was commanded to go to Saul at the house of Judas (Law). He feared Saul, but the Lord said he would carry his name before Gentiles, kings and the children of Israel. (Deuteronomy – Covenant Mission repeated – Trumpets – Prophetic Witnesses)
Conquest – Ananias laid hands on Saul, scales fell from his eyes and his sight was restored. He arose (resurrection) and was baptized. (Joshua – Mediator/High Priest – Day of Coverings/Atonement)
Glorification – Saul ate and was strengthened. He immediately proclaimed Jesus as Son of God in the synagogues. (Judges – Tabernacles – The Law, once external to Israel, is now internal, by the power of the Spirit. Instead of being under the eyes of God, Paul himself is now the eyes of God, judging between good and evil, and bringing blindness and sight to Judah.)
I was hoping to post the structure of 2 Thessalonians 2 today. The structure is done but the commentary is not, so will post tomorrow. There's some excellent "revelations" to be had once the Covenant/Creation/Feast pattern is identified. So, I hope you'll check back tomorrow.
Also, if you are a regular reader, please leave a comment and say hi. I'm getting around 10,000 hits a day, so an actual hi from someone new would be a great encouragement. Thanks!