Bringing Children to Jesus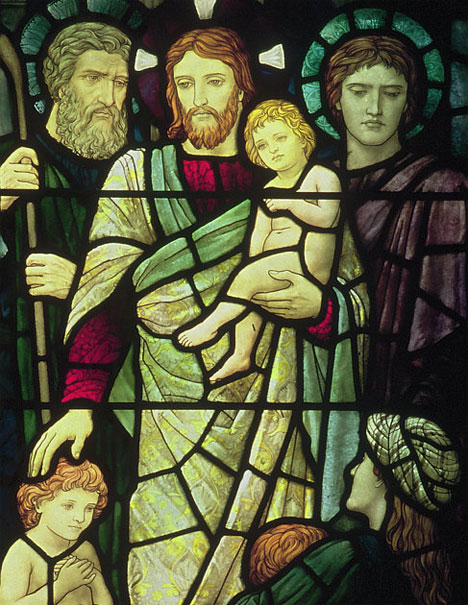 "Let the children
…..come to me,
……….and do not hinder them,
…..for to such belongs
the kingdom of God."
(Luke 15:16)
Jesus is often pictured with a child or children. His love for children is used as evidence for infant baptism. After all, aren't we bringing our infants to Jesus in paedobaptism and paedocommunion?
Well, let me ask you, in that tender picture, who is the one wearing the robe? It is Jesus. He is a better Adam, representing the Father as the Father is. He is the Great Servant (High Priest) who has the run of the Father's house, with access through the veil.
Baptism is a robe of office which vindicates repentance and faith. The Table is a weekly means of maintaining that repentance and faith. The New Covenant sacraments are for mediators, not those mediated to.
So, Baptism and Table are not for infants. The sacraments do not "bring us to Jesus" but give us access to the Father as brothers and sisters of Jesus. We, the baptized (robed) mediate that access as Jesus' body. Our children come to Jesus in us, and we represent them before the Father on the mountain. We, the regenerate, can stand the fire because we are the fire.
That is also the picture we are given in Exodus 24. To "enrobe" infants and bring them into the courtroom of God is to expose them to the stoicheia, the "elements," directly, instead of carrying them on our mediatorial robes, sheltered under our wings.