Pushing the Language Forward
Food, Commerce and Art made for Reproduction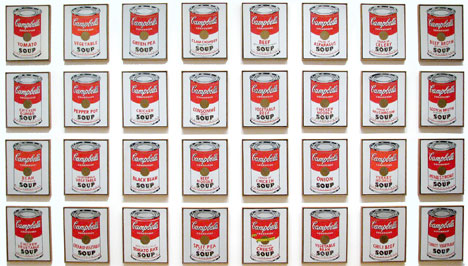 "He was most American of artists and the most artistic of Americans,
so American in fact, that he was virtually invisible to us." – Dave Hickey
These are the infamous soup cans by Andy Warhol. Initially, the work attracted little response. But Irving Blum, the art dealer who took a risk on Warhol, told the artist that as he observed them day after day in his LA gallery, they had a profound effect upon him. He couldn't put it into words, but he realized that, together, as a unit, and only as a unit, they silently but consistently presented a deep question.
Blum eventually bought the paintings from Warhol for $1000. He promised he would never split them up. He sold them in 1996 for $15,000,000. But the paintings are only valuable because they are famous, and only famous because they posed a question. They divided the art world by questioning the art world, its divide between the "commercial" and the "fine," a divide which had kept Warhol himself out of the art world. For better or worse, pop art was a marriage. As Chief Curator of the Whitney Museum, Donna De Salvo, says, "He pushed the language forward. That's the thing we want from great artists."
It's interesting that, at the time any work of art is created, its importance is minimal. One famous writer (whose name now escapes me), set aside his work to write political essays to meet the pressing need of the day. It hardly needs to be said that nobody reads his political essays now. Time not only threshes art and music for us so that only the best endures, it is often the case that the art and music are better windows to any period of history than anything else. Like a family photograph, which matters little at the time, great works grow in value with time. Yes, a family photo is merely a "recording of reality." But Warhol is famous for being a blank slate, simply recording and ordering commercial art (which was his trade) and culture and reflecting it back as fine art.
Art is always a sacrifice. It seems to me that whenever art is greatly subsidized, both its quality and value are diminished. We offer that which costs us nothing. The art and music and architecture that simply must be made will be made, whatever the cost. Physical life is "priestly." It is mere survival, it is putting food on the table. Political essays are kingly. They are the economic and social needs of the day, but the day passes. Art is prophetic. It is the future, the glory. As "the Body," it is somehow a "she" and it completes life, as women complete what men begin. As with the prophet, art also dares to question and bargain with God. It should be no surprise to us that the book of Job is high art.
The Spirit, through the Church, has moved the world from mere survival to a time of technological marvels. Don't ever doubt that new technology comes from the hand of God, and brings prosperity with it. Every new discovery is a Tree of Good and Evil, and we now rule the world as kings. But faithless science has led us down a blind alley. Despite the insistence of its priesthood, it answers none of the big questions. Perhaps the future of truth always lies in the prophetic, in art. John Maeda writes:
…what people want today goes well beyond technology and design. They don't just want four wheels and a means to steer, or to be surrounded by music and information wherever their eyes and ears may roam. What people are looking for now is a way to reconnect with their values: to ground how they can, will, and should live in the world.

The innovation now needs to occur elsewhere. Outside the design. Into, quite frankly, the world of art.

Mating our left-brained technical wizardry with our right-brained humanizing intuitions is key to innovation, but don't make the mistake of confusing "design" with "art." I'd argue that there's a difference, and it matters. Designers create solutions – the products and services that propel us forward. But artists create questions — the deep probing of purpose and meaning that sometimes takes us backward and sideways to reveal which way "forward" actually is. The questions that artists make are often enigmatic, answering a why with another why. Because of this, understanding art is difficult: I like to say that if you're having difficulty "getting" art, then it's doing its job.

In the business world, Steve Jobs was the iconic CEO-as-artist. One way to learn from that example, as revealed by Isaacson's biography, would say that to be an artist is to be a mercurial asshole in bloodthirsty pursuit of an ideal others cannot yet envision. For better or worse, though, most people don't see themselves in this definition. But when we manage to shed our stereotypes of artists as psychologically unstable, we get to see what an artist really is: someone who often exchanges his own welfare and even his life for a cause that may have no meaning to anyone else, but means everything to him or her.

In other words, an artist is truly in it for themselves – not just for reasons of wanting to get rich, or get famous, or find a path to comfort. The artist needs to understand the truth that lies at the bottom of an enigma. [1]
The Bible is literary art, but the job of understanding it is thought to be a science. The methodology of modern Bible teachers is entirely out of step with the Spirit of God, the matchmaker who puts things together that men cannot. Now, the Bible was designed to be difficult, to be profound. If we are having trouble "getting it," then it is doing its job. But the academies refuse to ask the big questions. What we need in the world of Bible teaching and theology is more visionaries like James Jordan, who intentionally tackles the tough questions, and perseveres in presenting a vision for Bible teaching and worship that is alien to modern Christianity. Liturgy is food and commerce as high art. And it will endure.
I also believe there is a great future in the presentation of the Bible to both the godly and the godless as literary art. While modern Christians go for schlock (pop art and music that reflects commerce and culture back to the world without asking any questions), the art and music of two millennia of the Christian Church are studied and celebrated more than ever before by unbelievers.
But the kind of art that the Bible is is more like the work of Andy Warhol. It asks the most profound questions by the presentation of changes carried along subtly in a framework of repetition. It is the world of food (priests) and commerce/technology (kings) reflected back to us in the mirror of the prophets, those mercurial a**holes who still stump us in many ways. [2] De Salvo again:
"[Warhol] had to deal with art directors who constantly needed to perfect an image, who had to get an image that would communicate not to just one person or ten people but tens and hundreds and thousands of people. So he saw something perhaps more than his other illustrator contemporaries did about what makes an image communicate. Throughout his career, Warhol understands scale, he understands texture, he understands movement of the eye. He understand how to make a composition, but he also understands something that I think makes him probably one of the most extraordinary figures since Matisse and that's how to use color. His sense of color is just unbelievable. And then on an aesthetic level, Warhol had a great capacity for finding permutations within the same…  to find a single image, a single theme and to endlessly, endlessly change it, to mine a territory that was very narrow to some extent and then push it as far as he could. This is something that print making made absolutely possible… The capacity of his mind seems without boundary in that kind of way." [3]
I'm passionate about biblical structure because it "pushes the language forward." The nature of the Bible is foreign territory to ministers and to Christians and to most academics. The Bible is God's mind. The Bible is us. The Bible changes the world. It is "art made for reproduction."
____________________________________________
[1] John Maeda, If Design's No Longer the Killer Differentiator, What Is? Thanks to Eric Walter for retweeting a link to this article.
[2] See Mercury Rising.
[3] Donna De Salvo, in "Andy Warhol – A Documentary Film," PBS 2006.