Gospel Proximity
A Guest Post by Chris Oswald, a pastor in the St. Louis, Missouri area
Gospel Proximity: Credo- and Paedobaptism and Pneumatological Signage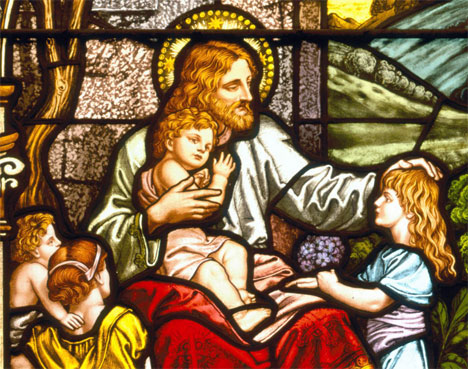 In the shadow of a tall bookshelf containing all 144,000 Douglas Wilson books, next to the covenantal family sing-a-long piano which held the covenantal tea set on a covenantal doily, I sat on a covenantal couch trying to explain our credo-baptist position to some dear Christian friends who wished to join our church without getting wet.
"But don't our children need a sign?" – asked the Mrs.
"Yeah," the Mr. said, "Doesn't God want our children to have a sign?"
"This is what it all comes down to," I thought to myself. "Does God want their children to have a sign? Are the children of believers meant to have any evidence of God's special redemptive intention toward them? Does God have a special redemptive intention toward their children? Forget their children! What about my children?"
"Well," I began after taking a deep breath, "I use a term, 'gospel proximity' for a set of arguments that explain why I believe the answer to your question is: 'yes, but not the one you think."
Romans 10:14-17 says,
How then will they call on him in whom they have not believed? And how are they to believe in him of whom they have never heard? And how are they to hear without someone preaching? And how are they to preach unless they are sent? As it is written, "How beautiful are the feet of those who preach the good news!" But they have not all obeyed the gospel.  For Isaiah says, "Lord, who has believed what he has heard from us?" So faith comes from hearing, and hearing through the word of Christ.
People must hear the gospel in order to believe it; and in order to hear the gospel, a preacher must go to where they are. When the gospel preacher does go, he usually goes in order to bring in and not to cast out. Generally speaking, the preacher is sent because God has "many in [that place] who are my people." (Acts 18:10, John 10:16)
Is it a hard and fast rule that gospel proximity signals God's redemptive intention? Of course not. Yet Romans 10:14-17 is so fundamental to our soteriology that I believe we are given explicit instructions to assume that, by sending a preacher to a people, God means it when he says, "Come."
This means that some unbelievers living in especially close proximity to a gospel-witness have been given an advantage so significant that their rejection of the gospel will be judged with greater severity than Sodom's sin (Matthew 11:20-24). Cities who saw and heard the gospel witness will be judged because they made themselves an exception to the rule and did what ought not be done. While Sodom will be judged for violating the self-apparent laws of nature, Chorazin will be judged for violating something even more evident and elementary: the principle of gospel proximity. Those who have a witness in their midst who is preaching and practicing the gospel have a divine visitor that even Sodom would have recognized. Individuals who see the work of the gospel are supposed to repent and believe. This is a more fundamental cause and effect relationship than the birds and the bees.
People who live closest to the gospel witness are, generally speaking, privileged. They are privileged firstly because they get to hear the gospel. They are privileged secondly because "faith comes by hearing."
Think about it this way, is an unbeliever better off having a sincere Christian as a neighbor than he would be without one? Of course he is. The unbelieving neighbor has a "preacher" living right next door. He is therefore far more likely to hear the gospel than if his neighbor were not a Christian. This is a matter of gospel proximity.
And if this is true with those living next to our homes, how much more true is it for those living inside of them?  In 1 Corinthians 7, Paul describes how Romans 10:14-17 works within the home.
"For the unbelieving husband is made holy because of his wife, and the unbelieving wife is made holy because of her husband. Otherwise your children would be unclean, but as it is, they are holy." (1 Corinthians 7:14)
Paul means that unbelievers living in a home with a believer have been chosen by God to enjoy a privileged advantage. That advantage should not be overlooked or discounted but rather held up as a reason for hopeful faithfulness (1 Corinthians 7:16).
Unbelieving children living with regenerate parents have a decided advantage due to their proximal exposure to the good news.  Daily they hear, see, and taste the gospel of Jesus Christ which is the power of God unto salvation.
Children growing up in a home with a Christian parent are spending their most formative years living under trees which consistently yield all the various fruits of the Spirit. Because God's Word does not return void (Isaiah 55:10-11), regenerate parents should be exceedingly thankful for the unique gospel advantage their children have been given.  The Holy Spirit has come to that home and the fruits of the Spirit go to seed. Grace pollinates by proximity. First in Jerusalem, then in Samaria and then in the outermost parts. (Acts 1:8)  The sincere faith first found in Grandma, sprouted up in Mom's heart, and then in Timothy's — and Paul found all of that to have gone as expected (2 Timothy 1:5).
The Holy Spirit's presence in your home does something that a well-framed baptismal certificate cannot. God's presence in his parents signals God's favor and redemptive intention toward the child with perpetual power. Long after the paedo-waters dry, the Holy Spirit at work within mom and dad proclaims the power and promise of the gospel.  Will every child raised in such conditions believe? Of course not. But exceptions are exceptions and rules are rules.
Children of believers have indeed been given a sign of God's redemptive intention toward them. That sign is the indwelling and outworking of the Holy Spirit in their parents.  The circumcision of their parents' hearts through the power of the Holy Spirit testifies to the proximal nature of grace in a way water baptism cannot. The Holy Spirit's presence, and not circumcision or baptism, is the New Testament sign of covenantal belonging. (Acts 11:1-18, 15:5-9, Galatians 3:2)
This conviction has held enough sway in my mind to keep me a happy and hopeful credo-baptist. Perhaps it is enough of an argument to dislodge some from believing that paedobaptism is meant to be a sign of salvific intention (see, I told you I was hopeful). Whatever position on baptism you take for your children, please understand that God does indeed have a redemptive intention toward children raised in a godly home and it is signaled to your children through the Spirit.
"Did he not make them one, with a portion of the Spirit in their union? And what was the one God seeking? Godly offspring. So guard yourselves in your spirit, and let none of you be faithless to the wife of your youth." (Malachi 2:15)
When my little girls were at the playground screaming from the swings, "'Higher daddy, higher!" they did not understand that it was actually the Holy Spirit pushing them. If it wasn't for The Spirit, their daddy would have been too busy or depressed or degenerate to spend the afternoon in the park. I'm not seeking to discount the parental love of unbelievers. I am merely recounting my own testimony as a fundamentally selfish man who remembers specific and numerous instances where "Christ in me" made the difference between loving myself and loving my kids.
Christian parenting stands on one amazing promise. Children living in close contact with Christians are living in close contact with Christ himself. These children awaken everyday to a household ruled by King Jesus and while they themselves are not members of His kingdom, they benefit greatly by His rule and have countless good reasons to eventually bend their own knee. They are in close proximity to the gospel which is the power of God unto salvation, first to the Jew and then to the Gentile. (Romans 1:16).  When you surrendered yourself to Jesus, you also surrendered your role within your home. Your home has become a gospel orchard which invites those living in it to "taste and see that the Lord is good."  (Psalm 34:8)
That sign is more than sufficient.
PS. This story ends with baptism of Mr and Mrs, nearly two years after this initial conversation took place. In yet another demonstration of God's goodness, their five young children heard and handled gospel fruit as mom and dad obeyed.