Talmuds of the Reformed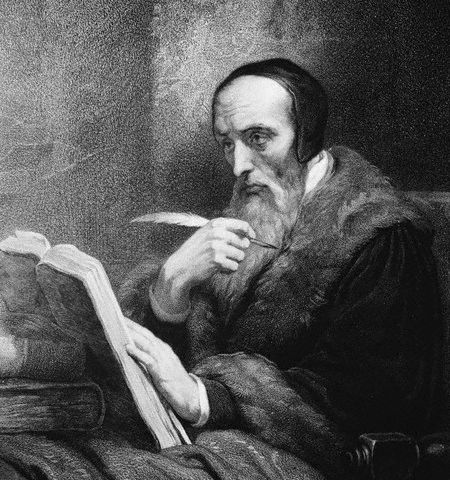 Jean flipped one page back and realized he had contradicted himself once again. This was tricky stuff, working out salvation, but at least he was showing his workings. "Oh well," he thought. "One day they will invent word processors."
In a post called Baptism Is Not Faith, Shane Lems points out where the Federal Vision guys depart from the "historic Reformed/Presbyterian confessions." He writes:

Unlike the Federal Vision, the Reformed position doesn't attribute this type of efficacy or instrumentality to baptism. Instead, the Reformed talk about faith alone (sola fide) as an instrument: the Heidelberg Catechism says we are grafted into Christ and receive all his benefits and our inheritance by faith alone (Q/A 20, 21, 60, 61; cf. Calvin's Institutes, IV.15.6). The catechism is unambiguous: the only way we can make Christ's benefits ours is by faith alone (Q/A 61). Baptism signifies the truth that Jesus' blood washes away sins, but baptism's water does not do that (Q/A 65-66, 72).
Steve Wilkins counters with some quotes from John Knox, the 1559 French Confession, Martin Bucer, John Calvin and finally a summary from the Second Helvetic Confession (1566) on the efficacy of baptism. He concludes:
…many, many more quotes could be lined up to confirm what those who stood in the historic Reformed tradition have believed about baptismal efficacy.

In spite of this our author concludes, apparently, without even the slightest twinge of uneasiness, that the "Reformed position" doesn't hold these views. Well, ok boss, if you say so. The problem is the only way I can agree with you is if I ignore what the vast majority of the Reformers actually believed. You'll forgive me if I conclude that your assertion is a tad weak.

But since the "Aquila Report" (to some, the official arbiter of what being "Reformed" means nowadays) has endorsed this position, I'll just say that being called "unReformed" is a small price to pray for the privilege of standing with Knox, Calvin, and Bucer.
So, is the catechism (which summarizes the Reformers' doctrine) correct, or are the Reformers themselves correct? Without resorting to sophistry and redefinitions, they quite obviously don't agree with each other. For the Reformers, baptism was efficacious. But Wilkins doesn't deal with Lems' objection. He just grabs more doctrinal statements from the same guys and hurls them back. Is faith the instrument, or is baptism? Are we faced with a choice between an efficacious baptism or one that is secondary to faith?
The subject of the dispute is the position of the Reformers, who apparently can be used to prove both sides. But step back a little. The real problem is that both sides are arguing over documents that are helpful but at the end of the day not authoritative. (Calvin sometimes contradicts himself at the turn of a page!) Now, both sides also hurl Bible verses at each other concerning faith and efficacy. To maintain the Gospel, we either have to meddle with the faith side of the seesaw, or fiddle with the efficacy.
The Bible says that baptism is efficacious, but also that faith is instrumental. This means that the "Covenant identity only" disempowered baptism is out of the question. There are only two possible solutions that remain, and only one squares with the Bible:
a) Christians somehow have supernatural babies who are conceived as believers (in the way Jesus was conceived, I guess), or
b) a Christian is someone who heard the Gospel, repented, believed, and desired to be baptized into the Body of Christ because he or she was drawn by the Spirit of God.
Hmmm. Which one looks like what we see in the New Testament? It amazes me how many brilliant people guffaw at it and are yet entirely unaware that their argument is defenseless against not only proof texts but also against the implicit pattern of maturity found in every aspect of the Bible.
Yes, the instrument is faith. And yes, baptism is efficacious. What do we get when put faith and efficacious baptism together? Credo-baptism. Wanna see me do that again? This is elementary school level logic. The Bible puts Lems, Wilkins, Knox, Bucer, Calvin and every paedobaptistic Talmud on the receiving end of a very big stick, and Jesus is holding the stick. The Reformed doctrine on this subject is as much a perversion of Christ as the Oral Law was a perversion of Moses. At its heart it is carnal, elitist and against the true Gospel, whatever spin gets put on it to hide those facts.
As I've written before, if paedobaptism is removed from the equation, the problem dematerializes. And even better, nothing is lost! You can still tell your children the Gospel. You can still tell them that Jesus loves them and died for them! You can still raise them in the nurture and admonition of the Lord. And when they ask what's stopping them from being baptized, you can tell them it's the pastor's fault, and baptists need to change.
The Reformers cast long shadows, and we can be thankful for that. But we can also be thankful that they are dead and the Word of God is alive. As in other matters, if we are to understand God's will, we must first submit to His Word. If we believe and obey, then we will understand.
Here's a simple experiment: Invite a non-Christian to attend a paedobaptism and a credobaptism, then ask them these questions:
Which sort of baptism convicts them of sin, righteousness and judgment, and which one looks like an elitist cultural artifact?

Which practice, credo- or paedo-, invites them to come to Jesus to be cleansed from sin, and which one makes them feel like an outsider at a tribal fertility rite?

Which definition of "Christian" or "saint" promises an immediate change of heart, an ethical transformation by the Spirit, and which indicates a life of ethical training?

Which practice communicates membership in a sub-culture, and which makes Christianity more obviously super-cultural?
If baptism is an efficacious and therefore crucial rite for the Christian (and it is), and also heart-cutting testimony to the non-Christian, then paedobaptism is a deep, culturally-based sin, and an idolatry that ought to be repented of. If paedobaptism is wrong, it is very, very wrong. Claiming that paedobaptism is efficacious (based on actual Scriptures concerning credobaptism) just makes it even worse. Paedobaptist, if your baptism was "the will of a man," not the result of a supernatural birth, repent and be baptized, and you will receive a new grace from God.
Reformation is a good thing, but it is simply placing the pieces of the sacrifice back together on the altar. If we really want the fire of God, we must obey the Reviver, not the Reformer: the words of God, not the words of men.
It's hard to admit one is wrong. It's harder to admit one has been wrong for at least five hundred years.