Bad Tabernacle in Isaiah 66
or Lord of the Flies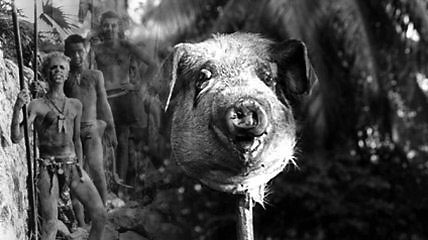 Isaiah 66 pictures hypocritical worship as the Altar of the Abyss (See that series here).
This is just a quick overview. Most of it does seem to fit, but I'm sure there's plenty more work to do here…
SABBATH/ARK
Thus says the Lord:
….."Heaven is my throne,
……….and the Land is my footstool;[1]
……………what is the house that you would build for me,
……………and what is the place of my rest?
……….All these things my hand has made,
…..and so all these things came to be,
declares the Lord.
PASSOVER/VEIL
But this
…..is the one
……….to whom
……………I will look: 
……….he who is humble
…..and contrite in spirit
and trembles at my word.*
FIRSTFRUITS:
BRONZE ALTAR
"He who slaughters an ox is like one who kills a man;
TABLE OF SHOWBREAD 
he who sacrifices a lamb, like one who breaks a dog's neck;[2]
LAMPSTAND/PENTECOST
he who presents a grain offering, like one who offers pig's blood;[3]
INCENSE ALTAR/TRUMPETS
he who makes a memorial offering of frankincense, like one who blesses an idol.
PRIESTHOOD/ATONEMENT
These have chosen their own ways,
…..and their soul delights in their abominations;
……….I also will choose harsh treatment for them [4] 
……………and bring their fears upon them,
……….because when I called, no one answered,
……….when I spoke, they did not listen;
…..but they did what was evil in my eyes
and chose that in which I did not delight."
SHEKINAH/TABERNACLES
Hear the word of the LORD,
…..you who tremble at his word:
………."Your brothers who hate you
……….and cast you out for my name's sake
……………have said, 'Let the LORD be glorified, 
……………that we may see your joy';
……………but it is they who shall be put to shame.
………."The sound of an uproar from the city!
…..A sound from the temple!
The sound of the LORD,
rendering recompense to his enemies!
The sections from Passover to Trumpets also seem to follow the pattern, but ever so subtly. An example would be "I will look", which is repeated many times as a symbol of the "seven-eyed" Lampstand at the centre of the pattern. The New Testament writers also use this one.
_________________________________
[1] Notice firmament at Day 2 and Land at Day 3. See The Footstool of His Feet by Peter Leithart on the Ark lid as a symbol of the Lord's footstool.
[2] Passover could be a lamb or a kid, but firstfruits could only be a lamb. The spotless lamb is contrasted with an unclean scavenger. From memory, the lamb's bones were not to be broken, although this might have been concerning Passover.
[3] The "harlotry" inspection in Numbers 5 also puts a grain offering at 'Pentecost.' Wilderness is always Step 4. The parable of the prodigal has pigs in the wilderness.
[4]  The Lord chose the scapegoat by lot. Sacrilege by the priesthood was what caused the Lord to depart from the Temple and leave it unprotected.
*The Hebrew gets really important here, and mine's not good enough!