Herd Mentality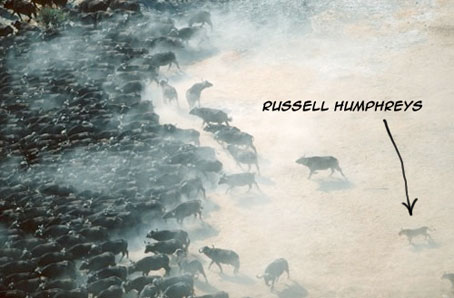 "Human beings are animals whose preference for group membership is simultaneously the source of their greatest salvation and their ultimate destruction" —Xenocrates
Who has the majority of evidence to support their paradigm? Is it the Young Earth Creationists or the (mostly atheistic) Evolutionists? (Please note that as far as I am concerned, anyone else is just sitting on a very sharp fence trying to hide the pain with clever words.)
The Old Earthers, whatever their stripe (from Richard Dawkins and Christopher Hitchens to certain young Sydney Anglicans I admire and the misguided mob at BioLogos), despite their bluff, rely on hearsay and circular reasoning. Creationist cosmologist Russell Humphreys writes:
There is a little-known irony in the controversy between creationists and evolutionists about the age of the world. The majority of scientists— the evolutionists—rely on a minority of the relevant data. Yet a minority of scientists—the creationists—use the majority of the relevant data. Adding to the irony is the public's wrong impression that it is the other way around. Therefore, many ask: "If the evidence is so strongly for a young earth, why do most scientists believe otherwise?" The answer is simple: Most scientists believe the earth is old because they believe most other scientists believe the earth is old!

They trust in what's called 'circular reasoning', not data. I once encountered such a clear example of this misplaced trust, that I made detailed notes immediately. It happened when I spoke with a young (in his early thirties, career-ambitious, and upwardly mobile) geochemist at Sandia National Laboratories, where I then worked as a physicist. I presented him with one piece of evidence for a young world, the rapid accumulation of sodium in the ocean. It was ideal, since much of geochemistry deals with chemicals in the ocean.
I wanted to see how he explained possible ways for sodium to get out of the sea fast enough to balance the rapid input of sodium to the sea. Creationist geologist Steve Austin and I wanted the information in order to complete a scientific paper on the topic.3 We went around and around the issue for an hour, but he finally admitted he knew of no way to remove sodium from the sea fast enough. That would mean the sea could not be billions of years old. Realizing that, he said, "Since we know from other sciences that the ocean is billions of years old, such a removal process must exist."
I questioned whether we 'know' that at all and started to mention some of the other evidence for a young world. He interrupted me, agreeing that he probably didn't know even one percent of such data, since the science journals he depended on had not pointed it out as being important. But he did not want to examine the evidence for himself, because, he said, "People I trust don't accept creation!"
So, in reality, who are the free-thinkers now? Not the old earthers.
Read the full article here.