BioLogos' Jenga Bible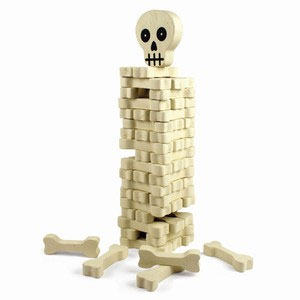 Daniel Harrell tries to marry chalk and cheese by positing that Adam and Eve were real people, just not the first real people. They were the first people with whom God entered into a Covenant relationship.[1] The Rev. Harrell is sitting on the fence, an extremely pointy fence.
For many Christians, the biblical characters Adam and Eve can present a significant challenge to accepting evolutionary theory—that is, when they are cast as historical figures who are also the biological progenitors of the human race. …the Rev. Daniel Harrell discusses how there may be some "middle ground" in the way that Christians understand Adam and Eve. Harrell points out that the historicity of Adam and Eve does not necessarily conflict with science.  Rather, the claim that conflicts with science is the idea that Adam and Eve were the first humans, who were the only original biological ancestors of all humans today.

[This post has been refined and included in Sweet Counsel: Essays to Brighten the Eyes.]


You must be logged in to see the rest of this post.

Join now for a year for $15!