The Seen and the Seers
or Knife and Fire
From Bible Matrix II: The Covenant Key.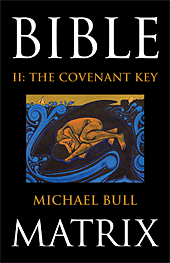 James Jordan observes that the tools required for Adam to produce bread and wine in the Land were "Knife and Fire." In God's kitchen, Knife is Division (guarding cherubim), and Fire is Testing (purifying seraphim). The ascension of the Head allows the holy fire to descend upon the nearbringing sacrifice and raise up a fragrant Body of smoke from the Altar.
Then we have Knife and Fire again at Conquest, or in the Covenant framework, applied Sanctions. Like the Tree of Wisdom, the kingdom wine is matured, alcoholic—"fully grown." It is Knife-and-Fire-in-a-Cup, a two-edged sword that we swallow. The bittersweet wine cuts us to the heart, judging us from the inside out. Alcohol removes our inhibitions. It exposes the true "thoughts and intents" of our hearts (Hebrews 4:12). The sword of Solomon reveals the identity of the true mother.
Just as the sword-Word sanctified the Head, so now it sanctifies the Body. The Covenant oath which Adam swore to keep is being required of him by God. With his wife as one flesh, he is being forced to eat his words. Sanctions is the Spirit looking for internal Law. The outflow "from his belly" (Succession), whether blessing or curse, bondage or freedom, will transform the world.
For Covenant "infants," those still under external Law, the cup brings death. On the Day of Coverings, their legal nakedness is dis-covered. They are seen. They and their heirs are cursed.
For Covenant elders, those who have obtained the knowledge of good and evil lawfully (by Grace), it brings joy and rest and continued life. They not only carry the Succession (Covenant success) into the future as an inheritance, their wisdom is a blessing to the nations. They are covered, robed with righteousness. They are wise judges: seers.
The Covenant Ethics are the tools of dominion. Adam was supposed to inherit these tools—Knife-and-Fire—freely from the hand of God. But instead of the Covenantal "there and back again" of the Trinity living in him by the Spirit for the Conquest of the Land, Knife-and-Fire was an external flaming sword flashing to-and-fro.