Heart, Soul, Mind and Strength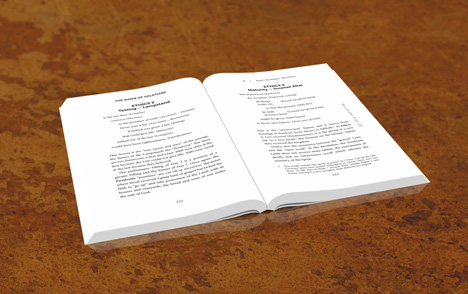 "I found it refreshing that the text didn't spend chapters discussing controversies because Michael Bull lets the fractal nature of the text itself speak out in matters such as baptism and justification."
A review of The Shape of Galatians by Victor Chininin Buele (from amazon)
_________________________________
I was very skeptical at first about reading Bible Matrix (an earlier work by the author), and I did so only because a friend insisted that I should. Soon enough, I started to see glimpses of the patterns that the author described. I continued to read through his other works, and it became clear to me that Michael Bull does desire to love God with all his heart, soul, mind, and strength. He does so by seeking to understand the Bible and teach it to others. So, I came across The Shape of Galatians, and I read it during a snow day. I could not put it down.
The author makes a claim in this book, "Much of the confusion [regarding the logic/message of the Bible] comes from truth spoken about one level being misapplied to another. The key is structural context. Once we identify the separate patterns, the confusion disappears" (239). And he walks us through the letter to the Galatians by looking at its structure, at the artistry, and at the craftsmanship of Paul under the inspiration of the Holy Spirit. "There are symmetries, oppositions and references inscribed not in the text but built into its arrangement, right down to the order of the words in the Greek" (1).
As I followed along this "musical survey" of Galatians, my confidence in the authority, clarity, inerrancy, and the power of Scripture were greatly affirmed. My creativity and my imagination were challenged to the maximum as I wanted to see how the very placement of the words and arguments in the letter mattered a great deal. We have had questions in Bible studies about things like the placement of some verses in the text, including Galatians 2:20. We once thought it felt like an unrelated thought. Seeing it in its intended structure, however, was very helpful to show the intentionality of Paul to deliver the message.
I found it refreshing that the text didn't spend chapters discussing controversies because Michael Bull lets the fractal nature of the text itself speak out in matters such as baptism and justification.
On page 45, Mr. Bull says that "the literary beauty of this section of Galatians actually brought tears to [his] eyes." And I must say that it is true what he says on that page, that the artistry of the text is breathtaking.
I encourage you to read this book, and let Mr. Bull be your fellow pilgrim in the worship of the Lord with all of your heart, soul, mind, and strength.
Victor is an elder and worship leader at CrossHaven Church, Belleville Il.