Scapegoating as Resistance to Change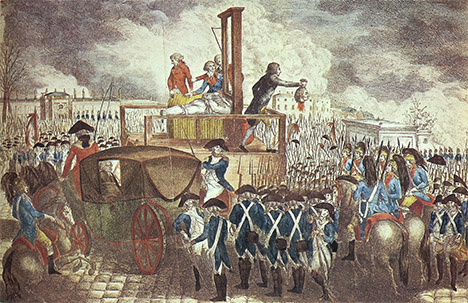 An excerpt from a new book, Metropolitan Manifesto, by Rich Bledsoe.
Institutions say they want change, but this is at best a schizophrenic desire. Change requires pain and nobody wants pain.
Death and Resurrection Motif in the Bible
The entire backbone of this manifesto is the application of the biblical motif of death and resurrection to the leader's situation. This begins with his/her survival in office, but must then have a broader application than that. Eugen Rosenstock-Huessy has understood the death and resurrection motif as the key to Western history as no one has. For the life of the Church and the Kingdom of God when things appeared to be at dead ends, over and over, it turns out to be the beginnings.
We see this pattern in the Old Testament. God brought a wicked world to an end in the flood and saved only eight people in the ark. But the end of that first world carried the promise of the rainbow with it as God promised He would never again flood the earth and made a covenant with all living things (Genesis 9:8-17).
A few generations later, He initiates a program of redemption when He calls Abraham to Himself, and promises to bless the whole earth and all peoples in Him (Genesis 12:1-3). This calling of Abraham is a calling that is over against universal judgment as He had exercised in the flood.
The family of Abraham develops for four generations, and then seventy people are called down into Egypt where eventually they are enslaved (Genesis 46:27). It is significant that seventy Hebrews go down into Egypt. Seventy is the
number of the nations, being derived from the table of nations in Genesis 10. Whenever the number seventy arises, it is symbolic of the nations.1An example of this would be in the Gospel of Luke, which is the Gospel to the Gentiles. In Luke 9, Jesus sends out the twelve to the Jews, which number is symbolic of Israel being the nation of twelve tribes. Then in Luke 10, He sends out seventy to cities He is preparing to go to, some of which are in Gentile areas, and include Gentiles. Egypt is a fiery furnace and slavery in Egypt is a kind of death. These Hebrew people are going down into Egypt to die for the world. Their enslavement is in place of a universal judgment that would once again destroy the earth. The Exodus is a resurrection. Israel emerges from the furnace of Egypt in new life and is raised from the dead by Yahweh. Israel now proceeds to explicitly become the priestly people to the entire world.
If the death/resurrection motif is not clear in the Egyptian experience, it is made explicit in the Babylonian captivity. Return from Babylon is directly likened to a resurrection in Ezekiel 37. This passage presents a vision
of a valley of dry bones coming together, flesh coming onto the bones and breath entering the resurrected bodies. This is Israel and Israel is coming back from the dead.
Jesus literally fulfills the death and resurrection anticipated in Ezekiel 37, and the Church is baptized into His death and resurrection. The disciples are sent forth to baptize in the name of the Father, the Son and the Holy Ghost, and they are to disciple the nations, not just individuals. Whole nations begin to take upon themselves this identity of "death and resurrection peoples" in analogous ways to Israel.
In previous chapters, we have spoken of the pattern of death and resurrection entering the life of the counselor to the king, as well as to the king himself. The hope for the leader is that his own experience of death and resurrection can become the experience of the institution he has headship over. Each institution is partaking of an era of a particular form of death and resurrection. It is in this that Rosenstock-Huessy has seen so deeply into. Hence, it is the explication of these patterns that become a way of giving orientation and hope to leaders.
Scapegoating and Cyclical Time: Hopeless and Hope
The first time I met privately with one of the leaders in our city, I said, "I am praying for you to make it in your office to seven years." I hardly had to say another word. This person was almost as far down the road on this issue as was I. She said, "Before I came here (she named an important official in another state) X said to me, 'When you get there, I want you to break the four year curse.' " Indeed, nobody had made it in this particular office for more than five years in nearly forty years. This was a very moving issue for the official. Momentarily, she appeared to be near tears. She was very touched. I then told her that her first year would be a honeymoon, the second a bit tougher and the sheen would be gone, and between the third and forth year, all hell would break loose. "If there isn't a crisis, one will be invented. They will attempt to crucify you." Several years later, a crisis indeed was invented. I got a call one evening, and it was the chief of staff wanting to know if I would see this person. A time was arranged, and I had a meal with her and her husband. We discussed the crisis. "How long have you been here?" She thought for a few moments. "Almost exactly three and a half years." (This is significant, because Christ was crucified at 42 months, or 3 1/2 years into His ministry).
A number of years later, I had meeting with another person in that same office. I began by saying, "You know, you have about one more year before they come after you." He got silent. He was a very seasoned politician in his previous life. He knew exactly what I meant. He then said three things. "You have been around here a long time, haven't you." It was a statement, not a question. I said, "Yes." "You've seen this before, haven't you." Again, it was a statement. "Yes." Then he did ask a question. "What sect are you from?" I told him my affiliation (Presbyterian). He was very silent and thoughtful, and our interview ended. I never saw him again, but he resigned a few months later. When he left, he left with a hero's departure with the press trumpeting all that he had achieved. He had been there a little more than two years. What I knew was that he was getting out of Dodge ahead of the lynch mob that he knew was coming.
What follows in this section is not presented as a law, but as something that has typically functioned as one of the first acts of wisdom or interpretation that begins to win the king. The typical first act of wisdom in my experience has to do with a kind of prophesy regarding scapegoating and cyclical time.
This is the information that understandably has had the most immediate and often the deepest effect on almost all officials with whom I have counselled. This understanding is a combination of things that I have learned from Edwin
Friedman, Rene Girard and James Jordan.2Friedman, E. (1985), Generation to generation: family process in church and synagogue. New York, Guilford Press. Bailie, G. (1995), Violence unveiled : humanity at the crossroads. New York, Crossroad. Girard, R. (2001), I see Satan fall like lightning. Maryknoll, N.Y. Ottawa Leominster, Herefordshire, Orbis Books; Novalis; Gracewing. Jordan, J. B. (2007), The Handwriting on the Wall: A Commentary on the Book of Daniel. Powder Springs. GA, American Vision.
Time is of the utmost in importance to anyone who is appointed or elected to any given office. As often as not, the reason someone is newly appointed or elected is to bring change and resolve problems that the institution has been experiencing. This, however, is not really the case. Institutions say they want change, but this is at best a schizophrenic desire. Change requires pain and nobody wants pain. Ray Bakke has said that the first rule of all pastoral care is that all change is experienced as loss, even if it means a net gain in the long run. People want change until it means change, and then what we all want is for the same tune to be played, with the hope that this time it will be different.
The Bible is replete with numbers and many numbers have a typological content. One of the most basic numbers is the number seven. The world was created in seven days, and all through the Bible we find time being structured on sevens. Israel's long term calendar was so structured with a weekly Sabbath every seven days, a Sabbath year every seventh year and a Jubilee year every seven times seven years. The Gospel of John is extensively structured on
sevens, as is the Book of Revelation, and Daniel prophesies about seventy weeks of years (7 X 10, Dan. 9:24).3There are seven miracles and seven discourses in the Gospel of John, and Revelation has seven seals, seven trumpets, and seven bowls.
The number three and a half is obviously seven cut in two. We first find it employed when Elijah prays for it not to rain, and it does not rain for forty-two months, or three and a half years. Three and a half is a curse. It is a time of completion, of creation or recreation cut short or in two. (James 5:17, I Kings 18:1, Daniel 9:27, Revelation 11:2, 12:6, 13:5). Jesus was crucified at about three and a half years into His ministry. The implication is that His life was cut off or cut in two. He bore the curse for us.
When someone enters office, it will take somewhere between seven and ten years to bring meaningful renewal.4Rosenstock-Huessy, E. (1947), The Christian future: or the modern mind outrun. London, S.C.M. Press. Cheyeny, T. Climbing Past 400 In New Church Attendence. In our current environment, this almost never happens. Most leaders are cut off in the middle. In my experience, most leaders are effectively cut off before they have been in office for four years, and most will quit somewhere around five years. This means that renewal never takes place and that the old dysfunctions just continue. Most of our institutions are not being renewed, and at some point the dysfunction could become complete.
In order to keep renewal from being brought by the leader, the leader must be removed or have his or her effectiveness destroyed. This happens through the process of blame and scapegoating. If a crisis can be found at hand, that will do. If one cannot be immediately found, one can always be manufactured. And this will happen with the greatest intensity somewhere between three and four years, at approximately three and a half years. In other words, the leader will be crucified. If he or she can survive this time, then they can make it to seven years, and be successful in bringing renewal. In this, they virtually pass through a resurrection.
If a resurrection is not experienced, then a new leader will be brought in, usually with great fanfare, to solve the problems that the previous leader could not resolve. What has really happened is that things are just going in vicious cycles, and the same thing in all likelihood will happen to the new leader. No real renewal will happen, and further decay and degeneration will continue to plague the institution, and will probably get worse.
Capturing the Conscience of the King
This forms the background of the capturing of the conscience of the king. Since the infamous 60s, when the fervor of the French Revolution was introduced into our universities and our cities, crucifixion of some sort is now almost inevitable in all positions of leadership in the United States.5This is true in most parts of the country, except the Deep South and those parts termed the Bible belt, which are still more stable. But in those parts of the country, the problem is often the opposite where officials stay and stay and form a good ol' boys' network that is just as impervious to renewal. In my experience, almost no leader in any significant position lasts more than five years in his or her tenure. As an example, I have discovered as a result of my ministry that university presidents in this country routinely play a game of musical chairs about every four years. A deep intuitive knowledge exists, that it is impossible to survive in any presidential, or chancellor position, beyond an early era before conflict has developed. Leaving at four years is often a way of avoiding what appears to be inevitable destruction in that position. It is leaving ahead of the final and inevitable destruction and end of intolerable and impossible conflict that has by that time already been inaugurated.
My entry into many offices has been an understanding of this and speaking of this reality to the various leaders I have met. Understandably, there is hope of something better or more coming of what appears to be inevitable destructive conflict. Interest in talking with me is usually prompted by sheer self interest. People pursue these positions often for noble professional reasons, as well as sometimes, out of sheer personal ambition. Someone coming to them and speaking of an inevitable destruction of their position in office is certainly an attention getter. However, that discussion sometimes follows some kind of power encounter that has also been an attention getter. The prediction of the nightmare of coming conflict that will be utterly destructive is sometimes the first opening that the counselor has to begin to speak wisdom. Almost nobody else will broach such a subject, and, if they do, it is never broached with hope. Hope in the coming darkness is the advisor to the king's great weapon and entrance. Who but a Christian, and particularly a Christian pastor, could better offer the hope of resurrection from the dead?
---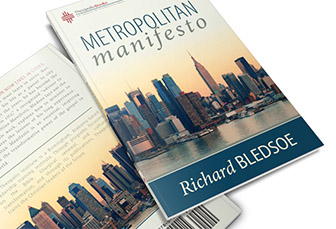 Metropolitan Manifesto: Half the world's population now lives in cities, and that is where the Church must learn to serve. Rev. Richard Bledsoe has spent his life as a pastor to city leaders in Colorado. Over the years, he has become the unofficial bishop of his city, a recognized adviser to the king. In Metropolitan Manifesto: On Being a Counselor to the King in a Pluralistic Empire, Bledsoe lays out the theology behind his work, explains how to minister to leaders, and shares the lessons of his long experience. The Metropolitan Manifesto is an essential, inspiring testament to the transformative power of the gospel in today's world.
| | | |
| --- | --- | --- |
| 1. | ↑ | An example of this would be in the Gospel of Luke, which is the Gospel to the Gentiles. In Luke 9, Jesus sends out the twelve to the Jews, which number is symbolic of Israel being the nation of twelve tribes. Then in Luke 10, He sends out seventy to cities He is preparing to go to, some of which are in Gentile areas, and include Gentiles. |
| 2. | ↑ | Friedman, E. (1985), Generation to generation: family process in church and synagogue. New York, Guilford Press. Bailie, G. (1995), Violence unveiled : humanity at the crossroads. New York, Crossroad. Girard, R. (2001), I see Satan fall like lightning. Maryknoll, N.Y. Ottawa Leominster, Herefordshire, Orbis Books; Novalis; Gracewing. Jordan, J. B. (2007), The Handwriting on the Wall: A Commentary on the Book of Daniel. Powder Springs. GA, American Vision. |
| 3. | ↑ | There are seven miracles and seven discourses in the Gospel of John, and Revelation has seven seals, seven trumpets, and seven bowls. |
| 4. | ↑ | Rosenstock-Huessy, E. (1947), The Christian future: or the modern mind outrun. London, S.C.M. Press. Cheyeny, T. Climbing Past 400 In New Church Attendence. |
| 5. | ↑ | This is true in most parts of the country, except the Deep South and those parts termed the Bible belt, which are still more stable. But in those parts of the country, the problem is often the opposite where officials stay and stay and form a good ol' boys' network that is just as impervious to renewal. |