Did Plato Read Moses?
or Collision II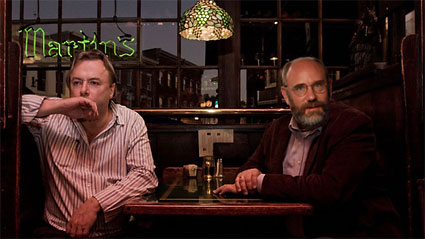 In the movie Collision, Christopher Hitchens relies a lot on the idea of a moral consensus, the idea that humanity has an innate sense of what's right and what's wrong and that we all agree on the basics. Is there any merit in this assumption? Or is Hitchens assuming that the benefits of Christianity are the result of human reason? Peter Leithart argues that Calvin, as an heir of 1200 years of Christendom, made exactly this mistake.
(I present below just the head and tail of Dr Leithart's argument. I highly recommend getting a hold of the essay and reading his full argument and evidences.)
Excerpts from Did Plato Read Moses?
Peter Leithart on Middle Grace and Moral Consensus
The Bible presents a bleak view of the moral potential of the natural man. In this respect it seems to fly in the face of the facts. What are we to make of the empirical phenomenon of the "good pagan"?
Though Christians can agree that pagan goodness is insufficient to gain entrance to the kingdom of God, the fact that the good pagan exists at all seems to undermine the New Testament's assertion that the "flesh is hostile to God" and that unredeemed sinners approve those who break God's commandments. How, moreover, can a Christian explain the moral consensus that is said to exist among all cultures and religions, a consensus ably summarised in C. S. Lewis's The Abolition of Man?
I am very skeptical that any such universal moral consensus exists. Reformed discussions of this question have generally been highly nuanced. At a very general level, Calvin said, there is a consensus of moral principle, but when one gets down to specifics the consensus disappears. This argument is confirmed by history and experience. Every society says murder is wrong. But is killing an unborn child murder? Many, perhaps a majority of groups, would say no. Seneca and Zeno say no, and even advocated infanticide and exposure of infants. Everyone says murder is wrong, but are human and child sacrifice wrong? Many cultures have practised such rites. Every people says murder is wrong, but is it murder to befriend a member of a neighbouring tribe, win his confidence and trust, invite him to your hut for dinner, and then fall upon him and beat him to a pulp? Don Richardson, a missionary to the Sawi people of Irian Jaya, reports that in the tribe among whom he worked it was considered a badge of honour to befriend and then betray a member of a neighbouring tribe.
Nuanced as he tried to make his formulation, I believe Calvin was too sanguine. Living in Europe as an heir of 1200 years of Christendom, Calvin observed that everyone, whether Protestant or Catholic, heretic or Jew, held to the same basic moral perspective, and he apparently took this as a universal phenomenon. In late twentieth century America, we should not be so blind…
…on the contrary, the Bible indicates that special revelation was transmitted through the ancient world in written form, and no doubt in oral tradition as well. Extra-biblical evidence supports this conclusion. I would thus generalise Augustine's final conclusion about Plato: It is impossible to determine whether whatever moral or theological consensus existed in the ancient world was the product of general or special revelation. The evidence shows that ancient cultures were exposed to both.
What is true of the ancient world is even more obviously true of Western civilisation. The Word of God has been so intertwined with our civilisation that the two are nearly impossible to separate. Distinctly biblical moral precept seem to the Western mind to be precepts of nature, accessible to every reasonable man with a modicum of common sense. Nature has been permeated and therefore transformed by grace. The God in whom Western atheists disbelieve is the biblical God (not Baal or Kronos), and many relativists claim that the one absolute is that preeminent Pauline virtue, love. One ancient near eastern flood myth recorded that the gods sent a flood because the people swarming over the earth were so noisy that the gods could not sleep at night. To the extent that moderns find this quaint or appalling, to the extent that biblical religion–not some abstraction called "common grace"–has shaped our conception of what conduct is proper to God. What the West has held in common is precisely what is, theological speaking, special.
The practical conclusion of the argument presented here is that the moral foundations of civilisation as opposed to barbarism are the product of the working of God's grace as it is distributed through His Word and Spirit, not the product of some vague and abstract general grace of God. Or, to put it differently, the general grace of God is not a constant, but is directly proportional to the spread of the special saving grace of God. If this is the case, then any moral consensus in American civilisation will increasingly vanish as people abandon the Word of God. Romans 1 says that God abandons idolaters to moral confusion, so that they approve what they know to be evil. This is our future; increasingly, this is our present.
If this is true, encouragement to virtue is a paltry and ultimately foolhardy response to the crisis of Western civilisation. The only answer is to be found in the universal and uncompromising proclamation of an undiluted gospel.