Breath of God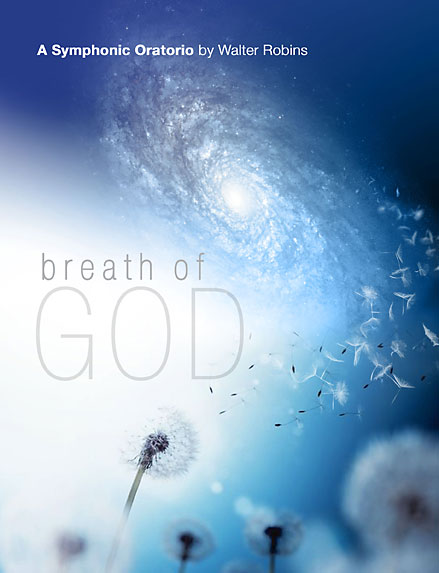 My composer friend Walter Robins' oratorio Breath of God: A Walk Through the Bible will be world premiered by Capitol Opera Harrisburg PA in May 2011 (visit www.capopera.com)
I love Walter's music because it has an angular beauty, just like the Bible. It constantly hints through its structure that there is more going on than immediately meets the ear.
Here's a few segments for your listening pleasure. As you probably know, much composing is done these days on computer, allowing the composer to hear a synthesised version that indicates how the live orchestration will sound. So the first two tracks are synthesised.
The third link is to Walter's The Lord's Prayer, which contains eleven key changes (thus twelve keys, one for each disciple). It is performed in this recording by "The Lowly Stable Quintet," Blue Mountains NSW.
The full track listing is:
Out of the Void

The Garden & The Fall

O Promised Land

Ruth & Naomi

David & Jonathan

Psalm 23

There All Streams Flow (from Ecclesiastes)

From Now On (Mary's Song – Luke 1)

Advent

Fishers of Men

Sermon On The Mount

The Lord's Prayer

I N T E R V A L

The Cross & The Stone

Sons & Daughters Will Prophesy (Pentecost)

If I Don't Have Love (1 Corinthians 13)

The Open Door (Letters to the seven churches)

Introduction to Revelation & The Throne

The Sea of Crystal

The Four Living Creatures

The Four Horsemen of the Apocalypse

Worthy Is The Lamb

BREATH OF GOD (subtitled 'A Walk Through The Bible') – a 150 minute Symphonic Oratorio by Australian Composer Walter Robins © Copyright 2009. Not to be copied or performed without the permission of the composer. www.capopera.com TO BE WORLD PREMIERED BY CAPITOL OPERA HARRISBURG PA IN MAY 2011 VISIT: www.capopera.com