Deus ex machina
or Covenant as Human Shield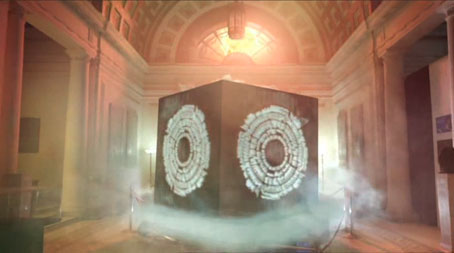 "…woe to you, scribes and Pharisees, hypocrites! For you shut up the kingdom of heaven against men; for you neither go in yourselves, nor do you allow those who are entering to go in." Matthew 23:13
NOTE: THIS POST HAS BEEN REMIXED AND INCLUDED IN GOD'S KITCHEN.
All Creation is Covenantal, and therefore all relationships within it have a hierarchical structure. God calls a vassal (Creation), separates/sanctifies him as a delegated authority (Division). He gives him a job to do (Ascension), and a period of time to accomplish it.
This Adam, the Covenant Mediator, stands between heaven and earth (Land). The Land was raised out of the Sea, and the Man was raised out of the Land as "grain and fruit." Then this new house, this body of broken earth, was filled with heaven, with the Spirit of God, sun moon and stars: This Adam was to be a singular prism that expands the white light of God into plural lights, a greater body, the full spectrum of colour. But he was to be a broken man. The light had to pass through him.
You must be logged in to see the rest of this post.
Join now for a year for $15!
________________________________
[1] James B. Jordan, Slavery in Biblical Perspective, 1980.
[2] See The Significance of Adah and Zillah.
[3] See Behind Closed Doors.