A Tabernacle in Rome
An Exhortation to Be A Fruitful Tree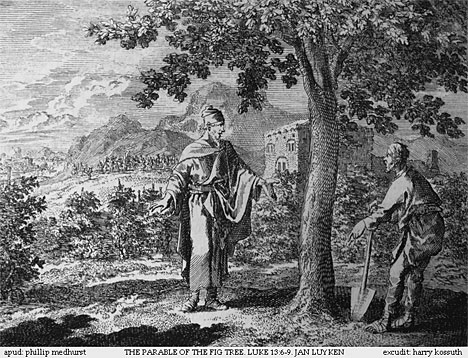 Tabernacles was the final annual feast, a Godfest to be thrown by Jews as a ministry to Gentiles. At the Feast of Clouds [1], every household temporarily became a new house of God, a "local branch" of the Tabernacle, a "priesthood of all believers." Of course, we see this fulfilled in the book of Acts. Just as we see Paul exhort the Ephesians (Gentiles!) to put on the mediatorial body-armour of the High Priest, [2] his final exhortation to the Roman Christians alludes to not only Israel's feasts but Israel's priesthood. Pretty much every church he established was a "booth" made of natural Jewish branches and ingrafted Gentile branches. [3] At Pentecost, the same cloud that received Jesus filled the house. [4] Now every household of faith was a Tabernacle, a glorious cloud with a government of human angel-elders. [5] In the Bible's literary structure, a recurring motif at Tabernacles is good fruit, godly offspring. God wants more than just a covering of leaves. As in Eden, future generations hang upon wise government.
Creation/Ark… "Now I beseech you, brethren,
[The initiating word]
Division/Veil… mark them which cause divisions and offences contrary to the doctrine which ye have learned; and avoid them.

Church discipline is a 'Passover' darkness dividing true and false households. Note that Paul is exhorting them to divide from those who cause division! Discerning godly division from ungodly division takes wisdom and love. Splitting a church over eschatological details, or over whether women should wear open-toed shoes, is faithless sin.


Ascension/Altar & Table; Covenant… For they that are such serve not our Lord Jesus Christ, but their own belly

ie. they eat the sacrifice instead of being the sacrifice.

Testing/Lampstand-Law… For your obedience is come abroad unto all men.

Maturity/Incense Altar… I am glad therefore on your behalf: but yet I would have you wise unto that which is good, and simple concerning evil.

Obedience brings wisdom, no matter how crazy the command of God seems at the time. The Tabernacle of David is always at Maturity. It is a resurrected "bridal" tent with music, singing and Gentile worshippers—a new body. It is the fruitfulness of an Eve led by a faithful Adam, hence the barrenness of Saul's daughter Michal. This is the step at which Adam failed. He became wise concerning evil, and his disobedience came "abroad" to all men, a kind of reverse-Pentecost, estrangement instead of military unity. The ground and the womb became barren.

Conquest/Laver; Open Veil… And the God of peace shall bruise Satan under your feet shortly.

Reference to both Genesis 3 and Joshua's men standing on the necks of the kings from the cave. Again, this is how the Lord should have found Adam, not hiding in the leaves like a creeping thing but standing, with his foot on the royal creep's conspiratorial neck. Possibly also a reference to Solomon's execution of David's enemies, the old leaven, to usher in his kingdom of Shalom. The Conquering Mediator is a human Laver. He has clean feet and can stand on the crystal sea as God's governor. [6]
Glorification/Shekinah… The grace of our Lord Jesus Christ be with you. Amen" (Rom. 16:17-20).
Doug Wilson has some great thoughts on this exhortation here. I have some thoughts on the crushing of Satan here.
This also means that Rome's later claim to being "the" Tabernacle on earth is false. One major reason for AD70′s end of Temple worship was the decentralisation of worship on earth so it was no longer corruptible at its heart, as the deluded Roman church later demonstrated. She forgot she wasn't the tree but just the local branch. [7]
It also appears that this complete structure, as the second last cycle, concerns Conquest/Atonement. The overall subject is a godly, governmental division between the two "identical" goats. The difference between the altar of Baal and the Altar of God is not subtle. Both have a bloody division, but only one has the Pentecostal fire.
___________________________________________________
[1] See A Place Called Clouds.
[2] See Armour of God.
[3] See Seven Thousand Who Have Not Bowed to Baal – 2.
[4] See Not Just Any Old Cloud.
[5] See Big Government.
[6] See Walking on Water.
[7] See Revived, Not Arrived.