Jacob's Pillar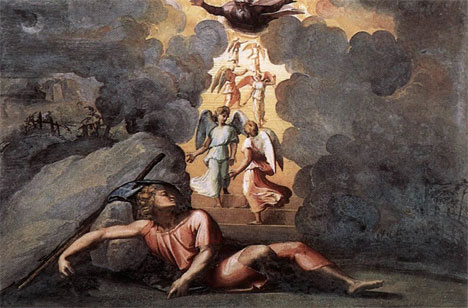 An excerpt from Bible Matrix III:
Just as Esau was the line of Cain rolled into one, so Jacob was a true son of God. In fact, being blameless as Noah was, the Lord granted him a vision of the true Gate of God, a tower reaching to heaven.
In Bible Matrix, we mentioned the significance of Jacob's "ziggurat" vision as it relates to the mountain of God. [1] Jacob was laid out on the ground like Adam. His slumber brings a "Bridal" vision.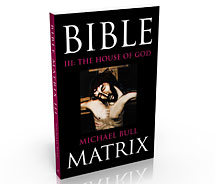 He was also a priestly Tabernacle in the wilderness. Jacob's head rested upon a horizontal (dead) stone. He "ascended" and received a vision of the house he would build. The pillar he erected was a model of what he had seen, a Head lifted up and given a triune Body, anointed as a "living" stone.
Prostration and uprightness are key factors here. The "elevation" occurs firstly in Jacob's head, then in his body. On either side of this (chiastically), Jacob chooses one of the stones (Delegation) and then sets it up (Vindication). [2]
The structure of events also underlines that Israel's kinghood would be founded upon the priestly obedience of the faithful son. Unlike Cain, Jacob made God his refuge, so God would make Jacob a tent, a household and a city, which we see prefigured in the life of Joseph.
Creation – Jacob rests on his way to Haran because the sun has set (Sabbath)
COVENANT HEAD (MAN)
Division
– He sleeps with his head on an unhewn stone
(Passover)
THE LAW GIVEN (PRIEST)
Ascension – He dreams of a stairway from the Land to heaven, with the Lord standing above it. The Lord reconfirms the Abrahamic promises in Jacob (Firstfruits)
THE LAW OPENED (KING)
Testing -  Jacob awakes (eyes opened) and declares the Lord's presence (Pentecost)
THE LAW RECEIVED (PROPHET)
Maturity – He describes it as the House of God, the gate of heaven (Trumpets)
COVENANT BODY (TRIUNE MAN – THREE OFFICES)
Conquest – He takes the stone upon which he had put his head (Priest), sets it up as a pillar and pours oil upon it (King), then renames the place Bethel (Prophet) (Coverings)
Glorification – Jacob vows to give God the firstfruits if God keeps his promise of protection: food and clothing (Booths – Shelter)
(Genesis 28:10-22)
______________________________________
[1] Bible Matrix, p. 101. For a full explanation of the significance of the architecture of Jacob's dream, see James B. Jordan, Through New Eyes, pp. 87-89.
[2] This footnote won't be in the book, but even here there is evidence for credobaptism. The New Testament uses an identical structure to contrast circumcision with baptism. Baptism is only for the upright, the blameless in Christ, those who have been invested with Jesus' triune office as His robed Body. There is also support here for the "baptistic" mode of baptism: prostration and then uprightness. Credobaptism is built into the warp and woof of the Bible, in every passage, at every level.