Amalek debunks Hyperpreterism – 1
Attack from the Abyss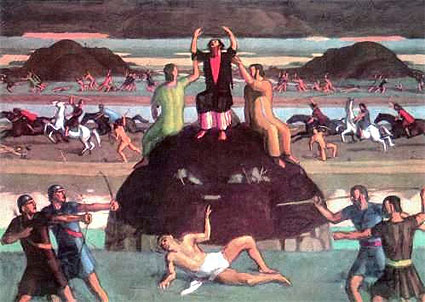 As with most things in the Bible the pattern begins in Genesis.
Unlike the serpent's warriors, who live by the sword, God's warrior is a father-ruler who fights only to protect those in his care. Nimrod was a serpent-king—a dragon; Abram was a servant-king, God's answer to Nimrod the 'rebel' (most likely Gilgamesh).
Satan's attack on 'the offspring of the woman' through Pharaoh had failed, so he resorted to inciting a conspiracy of nations. The serpent became a dragon. But Abram (as a good Gilgamesh/Nimrod), along with the men of his household, defeated them, rescued Lot and his family, and very importantly, plundered the attackers. The darkest nights that God allows are always opportunities for more glory. And, this being HOLY war, Abram refused the 'devoted' plunder.
The next instance involves Amalek, who attacked Israel in the wilderness, and mercilessly picked off the stragglers. Once again, God's man "came down" to fight – in Joshua, at Moses' command – with Moses, Hur and Aaron as Ark and cherubim on the holy hill, the "garden gate".
"The Lord will have war with Amalek from generation to generation." (Exodus 17:16)
This statement about Amalek is more loaded than it seems. Amalek was defeated, and the plunders from the victory were devoted to building God's house in the wilderness. We will see this pattern again and again. Each time, deliverance for God's people is on a greater scale, and the defeat more catastrophic for His enemies.