Devil's Advocate
or Disputatio with God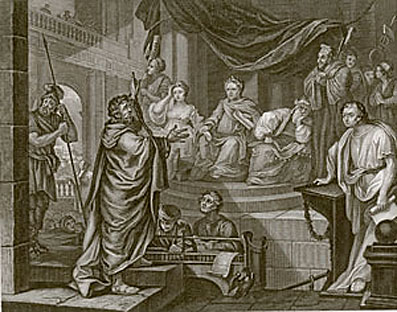 Re The Wrath of Love, Michael Micklow commented:
(Correction – not Michael Shover – Michael got his Michael's crossed)
"The prophet did not have to remind God, so much as he had to remind himself of the love of God, and to see God's judgment as the wrath of love."
What about the dangerous yet successful Mosaic paradigm in Exodus 32:7-14? In this section, the prophet is able to approach, contest and sway God's wrath (vv. 11-13). In response to Moses' challenge, the text tells us, "and the Lord changed his mind about the disaster that he planned to bring on his people" (v. 14)…

… And what was the cornerstone of his defense? — the appeal to memory (v. 13). Moses cites the exodus event, and he further appeals to the covenant established with Abraham.

Exegetically said, human agents when in-line with the memory of Scripture are empowered to approach and challenge the memory of God himself. — Indeed, there may have been another deluge if it weren't for Moses' agency, and God may have lamented as he did so poignantly in Genesis 6:6.

It might sound crazy that God needs, or relies, on humans in order to bring about his purposes for the cosmic renewal or eschaton, but a close exegesis of Exodus 32 supports it; furthermore, the overall canonical sweep of Scripture supports such a daring mutual interdependency of God/heaven and humans/earth, founded by Gen. 1:26-28, and supported in Gen. 5:1, Gen 9:6.

Therefore, I am not quite on-board with your above claim, as the relationship between humankind and God, as depicted in the biblical account, is more complex and nuanced.
and then he wrote:
Caveat: or perhaps God was fishing for an answer, testing his prophetic subject in order to see how he would respond to such utter destruction of his Covenant people. But if Moses had not chosen to speak up, then would the fire and brimstone have been unleashed? I think so.
I think this caveat is a good solution to the problem.
Moses and every other "mediator" foreshadowed Christ, standing before God as our advocate. It is not that God has a short memory, but that a Covenant memorial is required, a permanent testimony to the covering that was provided. Christ is enthroned "permanently" at the right hand of the Father, mediating for us until the New Covenant comes to an end and He presents the completed kingdom for final glorification.
God allows crises, as Jordan observes, to bring us to maturity. As God's sons, we are not called back to the innocence of childhood (or Adam), back to square one, but forward to government. The mature prophet, like Abraham, David, Joshua the High Priest and others, is invited to join God's council and deliberate with Him on the best course of action. Abraham bargains with God over the cities of the plain. David is given some horrific options to atone for his counting the troops, and he wisely chooses the best of them.
The devil stood at the Father's right hand accusing the brethren. His job in the garden was to bring Adam to maturity, and despite his rebellion, God used him for just that purpose. And He still does. The Lord just about plays "devil's advocate" in some instances. [1] He removes His protection from Job. He calls Abraham to kill Isaac. [2] Like Solomon, He calls for a sword to kill the baby. Jesus said plenty of spiky things, and on the Emmaus Road, He pretends as though He is going further. After His ascension, He allows Satan to test the firstfruits church with false doctrine.
What is my reaction in a crisis of faith? I think of Spurgeon's complaint to God when he was ill, that if he were God, he wouldn't treat his son this way. And he got better! God allows room for complaint. We see this in Habakkuk, where the prophet complains about the lack of justice, and the Lord is then able to fill him in on the bigger picture.
In the New Covenant, Jesus has given us bread and wine, the Tree of Life and the Tree of Wisdom. When tested, what will be my judgment? Will it be wise, and most importantly, will it be mediatorial? Will I step in between the serpent and Eve, between Israel and the plague? Whatever the test, we now have an Advocate when we fail instead of simply an accuser. We now have a true Teacher instead of an envious angelic pedagogue. His Spirit in us turns stumblingblocks into hurdles. He enlarges our path so our feet do not slip. He teaches us how to make war, and gives us the necks of our enemies. He puts them, and the accuser, under our feet.
In one sense, any dispute with God is sin. He is always right. There is no point debating. At the last judgment, every mouth will be stopped. But in this sense, in this call to maturity, it is an honour to be invited to a "disputatio" with God, a terrible honour: in God's court, neither the dilemma nor the stakes are ever hypothetical. We are called, robed in white, washed and seated as judges, and our ministry is to stand in the gap (as bread-and-wine people) and avert tragedy through intercession.
Then he showed me Joshua the high priest standing before the Angel of the Lord, and Satan standing at his right hand to oppose him…  And the Lord said to Satan, "The Lord rebuke you, Satan! The Lord who has chosen Jerusalem rebuke you! Is this not a brand plucked from the fire?" …the Angel of the LORD admonished Joshua, saying,

"Thus says the Lord of armies:
…..'If you will walk in My ways,
……….and if you will keep My command,
……………Then you shall also judge My house,
……….and likewise have charge of My courts;
…..I will give you places to walk
among these [heavenly elders] who stand here.

(from Zechariah 3).
___________________________________________
[1] The site of Isaac's offering was where David saw the angel with the sword. He purchased it for the construction of the Temple.
[2] See The Dirty Birds.