Red Cord, Blue Threads – 3
The Vow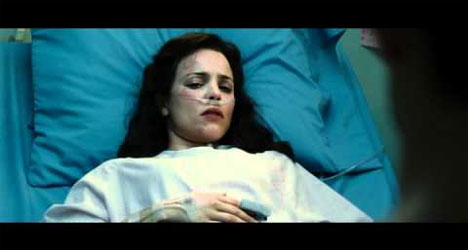 [Apologies to those readers who have had enough of me railing against paedobaptism. It's not personal. It's not that I have any loyalty to any doctrinal system, denomination or tradition. It's that a group of godly guys taught me how beautiful the structure of the Bible is but maintain, to my eyes at least, a tradition which contradicts that beauty. The internal logic of the Scriptures -- including the Old Testament Scriptures -- spits out paedobaptism at every turn. In every round of typological musical chairs I play, paedobaptism has nowhere to sit.]
We ended last time with the observation that all Israel was a "bridal" nation. The Israelite robe, like the Nazirite vow, was something that pertained to both males and females. Why is this?
Because circumcision was Adamic, that is, priestly. As James Jordan notes, there are kings and queens, prophets and prophetesses, but no priestesses. Not a one. Eve could not serve in the Tabernacle or Temple because it was not yet safe. The serpent had not been crushed. Satan still stood, bloodthirsty as ever, as an accuser in the court of God (as Joshua the High Priest discovered).
Yet, outside the tent of death lived a (symbolic) resurrection body, twelve tribes, twelve stars, twelve constellations—the glorious Warrior Bride, a city of living stones gathered around the Lamb. Greater Eve didn't see the blood either shed or presented. She saw only the memorial, the fragrant smoke. She herself, as a body raised from the grave, was a memorial to the blood shed in Egypt.
The blue-tasseled robe was a memorial. The command to wear blue tassels does not appear in Exodus or Leviticus, but in Numbers, after Israel has broken the Law (many times) and temporarily forfeited the Promised Land. What was Israel to remember?
The tasseled robe was a reminder of holiness. In a veiled way, they were "putting on the Lord Jesus Christ." But at this "Mosaic" stage, the clothing reminded each adult of his or her vow.
So Moses came and told the people all the words of the Lord and all the judgments. And all the people answered with one voice and said, "All the words which the Lord has said we will do."
In fact, the people repeat this vow twice. The Law required two witnesses (and, of course, the passage follows the Covenant pattern!) They did it consciously. They did it as representatives of their children and their animals, those who could not take the vow. The "robe of righteousness" called them back to the "words of the Lord and all the judgments" to which they had agreed. It was not only glorious, and made a public testimony out of being an Israelite, but it was also a mnemonic device. It called Israel to remember, not the circumcision of every male born in Abraham's house, but the conscious vow made to obey the Laws of Moses. If we had to correspond this robe to anything under the New Covenant, it would not be circumcision but baptism.
When to Trash a Baptism
Toby Sumpter tweeted: "Sometimes a pastor needs to take a man's baptism and trash it and bury it in front of him and only then will it become true." This statement comes from the frontline of ministry, and out of a pastor's heart. Toby has an excellent blog post on this subject here, and I don't mean to take anything away from that.
But trashing someone's baptism means holding somebody accountable, calling him back to his vow. We could say this about the fulfilment of any vow, but paedobaptism plays games with what a vow actually is. You can call someone back to their baptism only if they were conscious at their baptism. Otherwise you are suing someone based on a contract they didn't sign.
A Seal Upon Covenant Children?
How many men, circumcised in their infancy, can recall their circumcision? This seems a fair question, but it assumes that baptism performs a similar role to circumcision in marking out "Covenant children." It's amazing how paedobaptists will tell me that baptism is New Covenant circumcision when it suits them, and also tell me that baptism isn't a New Covenant circumcision when it suits them. So, which is it?
Well, neither circumcision nor baptism marked out Covenant children. Circumcision was always genealogical. It was Adamic. Like the Tabernacle, it was a substitutionary death on behalf of Eve. It was about males, not infants. So, even Israel did not have a rite related to childhood. Paedobaptism not only misunderstands baptism, it misrepresents circumcision in order to use it as support for a misguided tradition.
Israel's Conscious Vow
Israel made a conscious vow in the wilderness. Did that involve circumcision? No.
It was circumcision that made them Israel — a separate nation. But what is very interesting is that the Covenant vow took place in the wilderness, and no infant males were circumcised for around four decades, until the next generation reached Jericho (Joshua 5). So the corresponding of circumcision with Covenant accountability for individuals (a la Doug Wilson) is not even a long shot. Were there no "Covenant children" until after the death of Moses? Of course there were! God held the "circumcised" generation accountable to the vow they made at Sinai as adults, males and females. The Covenant responsibility fell upon the parents who made the vow to teach their children — even when their boys were uncircumcised!
God most certainly judged the patriarchs for sin, but the Law of Moses was not in force. There were no stonings, no lepers exiled mandatorily outside the camp, until the Law of Moses. The Law of the Covenant required a conscious vow. The blue-tasseled robe was a reminder of that vow. They didn't put these robes on any babies, let alone the male infants. We know this because the tassels on the robe served a deliberate purpose. The robe was a call to a circumcised heart, a circumcision made without hands.
This "investiture" was a circumcision of heart, not flesh. It was to signify the imputed righteousness of the sacrificial, priestly people. In Exodus 24, Moses and the elders ascended the mountain and saw the Lord on the crystal sea. That's what baptism pictures—mediators. The children of Israel were at the bottom of the mountain. The "baptized" elders mediated for Israel, and, in turn, all Israel carried out this same mediatory role for all nations. As glorious Israel was an outcome of the sacrifices, so the bridal robes were an "outcome" of a hidden circumcision. Every Israelite was part of the Warrior Bride, mediating for the Gentiles.
(Of course, all Israel was "baptized" in the Red Sea, but not as individuals. They were baptized as one flesh in one event. That's not the case with Christians. I have covered this elsewhere on this blog.)
Now, I must say here that if somebody could show me some good arguments for paedobaptism, I'd publicly apologize for my rants, and very likely become the most ardent paedobaptist the world has yet seen. But I've discussed this with even the big guns, and so far, if they have any ammo left at all, either they can't be bothered shooting it or they are afraid it might bounce off. That probably sounds like hubris, but it isn't. How about starting with this fact that the first generation of "Covenant boys" were uncircumcised. Think of this as another gauntlet thrown down. Even I'm getting tired of discussing this, but I reckon it has been worth it. I've been thrown some curly ones, but there's not a single doctrinal or typological hole left through which Christening can be snuck.
Confession and Confessionalism
So we have no business telling everyone we are bap-cising the hearts of our offspring before they hear the gospel.
The Westminster Confession of Faith has some good things to say about baptism, but I find it ironic that a confession confers Covenant accountability upon those who cannot confess. Consulting the Reformers before we consult Moses and the Prophets to make sense of the New Testament is replicating Talmudism. There's no support, whatever the claims, for infant baptism in either the Old or New Covenant Scriptures. WCF XXVIII: III, IV and VI are made up out of whole cloth.
Aligning baptism with circumcision demonstrates a fundamental misunderstanding of both baptism and circumcision. How many Israelite women could recall their circumcision?
Cursed Confessors
A pastor cannot call a saint back to his or her baptism if it did not include a "legal" Covenant confession, their public witness. It makes no sense at all to lay Covenant responsibilities upon newborns. Not even Israel did that! Who died in the wilderness? It was the ones who took the vow — first, those who worshiped the golden calf, and then the rest over the next few decades. Only two people survived the threshing, Joshua and Caleb. And who made it out? The children of those who died, and it seems that all the males under 40 were uncircumcised. What were these people called back to in the book of Deuteronomy? Not Abrahamic circumcision. While they were separated from Gentiles geographically it served no function. It seems one could leave Israel and not suffer death for leaving (unlike some churches!). Circumcision was only what made them a separate "flesh." They were called to remember the Law under which their parents made the original vow at Sinai.
The men, boys and infants were circumcised outside of Jericho. It wasn't an infant thing. It was a male thing (generation). Just as baptism isn't an infant thing. It is a believer thing (regeneration). Paedobaptism screws up the message of both these signs.
Nailing the Colors
A baptism that isn't a conscious change of allegiance, doesn't nail new colours to the mast, doesn't rub non-Christians up the wrong way or scare them or leave them in awe, isn't a baptism. The only way to trash somebody's Christening is to actually baptize them as a public witness to their confession.