My Firstborn Son
or Baptism into Baal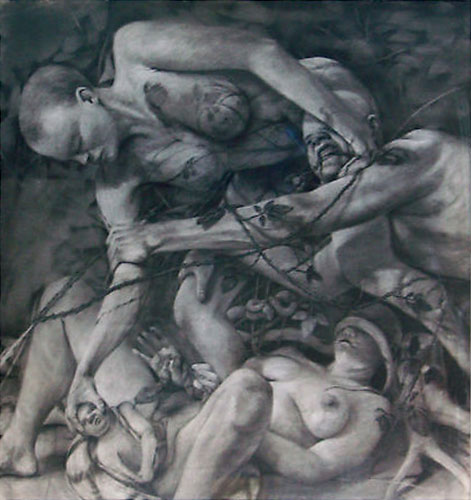 Then you shall say to Pharaoh,
'Thus says the Lord,
Israel is my firstborn son,
and I say to you,
"Let my son go that he may serve me."
If you refuse to let him go,
behold,
I will kill your firstborn son.'"
(Exodus 4:22)
My Federal Vision friends believe baptism is an important subject, from both theological and pastoral points of view. I agree, but for me it is also an issue of aesthetics. The Bible has a wonderfully consistent internal logic, and paedobaptism crunches the gears at every turn.
Peter Leithart just posted something concerning baptism, and it's worth answering, not only "because somebody on the internet is wrong," but also because it is an issue I've just finished dealing with in The Shape of Galatians. It should be noted that Trinity House is hosting some lectures on sacraments by a baptist, so Dr Leithart and his colleagues have a spirit that should be imitated by theologians everywhere. My own posts here are always bait in the hope of a bite, a friendly disputatio, so don't take them the wrong way. If a friend has soup on his tie, or wax in his ear, or a fertility rite in his sacrament, what sort of friend isn't going to point it out!?
Dr Leithart writes:
Paul calls circumcision a "seal of righteousness" in Romans 4:11, and that same phrase has historically been applied to baptism.

But what does it mean to be a "seal of righteousness"? A seal (Greek sphragis) is an identifying mark. The word is used to describe brands on animals, identifying tattoos on slaves, signs that identify a man's regiment in the military. To be sealed is to be identified in some way.

A "seal of righteousness," it would seem, is a mark that identified the one sealed as "righteous." That's true for Abraham: He trusted Yahweh's promise, Yahweh counted it for righteousness and thus considered Abraham to be righteous, and the seal of circumcision imposed that status on Abraham's flesh. Abraham would have explained his circumcision as a seal that Yahweh considered him righteous.

But then that same seal is applied to the infant Isaac, and then many other infants, on the eighth day. It's still a "seal of righteousness." Changing Isaac's nappies, Sarah could have seen Isaac's circumcision and thought, "Yahweh sealed my little son as a righteous one! Praise to Yahweh!"

When we apply this logic to baptism, as paedobaptists are wont to do, what are we to conclude? Is baptism a "seal of righteousness," also for our children?
Firstly, what does Paul actually say in Romans 4? Abraham became the father of a priestly nation because he believed. He believed first, and then received the Circumcision. The question here is this: if Abraham and the men in his household believed before they were circumcised, why wasn't Isaac required to believe first? Because Abraham was sealed as righteous, and through him all Israel were given promises. It says nothing about Isaac being sealed as righteous. He was the fulfillment of the promise.
Notice that Dr Leithart doesn't mention males, but infants. That's the classic bait-and-switch. Circumcision wasn't about child rearing but child bearing, about a physical seed. Yes, Sarah would have praised God every time she changed Isaac's nappy. She would also have praised God every time Abraham was naked before her. Circumcision was a reminder of their previous barrenness, which was removed because Abraham believed God. Both the birth and circumcision of Isaac were a sign of Abraham's righteousness, and nobody else's.
So, why were Abraham and Sarah barren in the first place? Because they were a new Adam and Eve, the beginning of an "Edenic" nation which would carry the curse for all nations. Abraham plants trees and buries Sarah in a tree-circled grove. Thus, Circumcision was about the Land and the womb, the firstfruits and the firstborn. It was about cutting off Cain and cutting off Canaan. It was inherently Edenic, because the original promises were given to Adam and then distributed by Noah.
God promised fertility to Adam, constructed Eve, and then qualified Adam to receive that fertility as a gift. The Land and the womb would not be opened until Adam was qualified. He sinned, but the shedding of blood allowed God to bless him still with a fertility in Land and womb that was tempered, not cut off, by a curse. Circumcision was likewise a shedding of blood that would allow God to give a faithful Man a fruitful Land and a fruitful womb. But things had progressed, because although death was mitigated in Eden, human blood was still shed. The mitigating blood in Circumcision was now human blood. In a sense, every male Israelite was cut off as an Abel that he might not be a Cain. Isaac himself was a son offered as an ascension sacrifice. He was symbolically slain as a Cain and "born again by faith" as an Abel, hence the constant battle for Covenant Succession between firstborn and secondborn sons, right up to Christ and the Herods, upon whom all the righteous blood from Abel would be avenged.
Because of his faith, righteousness was counted to Abraham. Working through Galatians I noticed a structural correspondence between Paul's reference to this counting, and the counting of the sons of Israel. The name of the book Numbers refers to the two censuses which bookend it, the generation which came out of Egypt ("my firstborn son") but died in the wilderness, and the new uncircumcised generation which took possession of the Land. The children of Israel are numbered so many times it gets boring. But the point is that they are counted. As Dr Leithart has himself noted, Revelation 7 alludes to Numbers when it counts out the 144,000, the "firstfruits" of the Land, the first Jews who believed the Gospel. But notice that the Gentile believers are not counted. They are count-less, like the stars in the sky or the sand of the seashore. To be "counted" is to be a sacrifice, an ascension offering like Isaac. The counting of righteousness to Abraham resulted in the counting of sons and their inheritance in the Land. Israel's physical and agricultural fertility were evidence of the faith of Abraham in the promises of God.
But the third promise was this countless blessing to all nations. The nations, generally speaking, were never under such a curse of barrenness. Their offspring were always countless, and their swarming hordes were held back by God when Israel was faithful, and brought by God upon Israel in a "flood" of judgment when faithless. And the famines also seem linked to the presence of Abraham and his sons. Indeed, it was the very fruitfulness of the nations (in both Land and womb) which deceived Israel into worshiping their gods of fertility, the Baals. Just as it was in the Garden, Molech was simply another dragon hijacking the offspring of the woman with an offer of certain food. [1]
So, what kind of sons is Paul talking about when he refers to Gentiles who have Abraham as their father? Obviously, it is those who believed.
Paedobaptists take this faith as "household by household" to tie it once again to offspring, but for Gentiles it was never about offspring, or the Land, which were always tied together, just as Abel and the ground were tied together. This question is answered by taking note of the nature of this great blessing for all nations. Once again, it takes us back to Genesis. Just as the Land and womb were opened by the mitigation of death, so also the curse upon Land and womb was swallowed up in the defeat of death. The resurrection of Christ made Circumcision, the Jew-Gentile distinction, redundant. [2] This is why the writer of Hebrews works his way from slavery to death (World), to the children of Abraham (Land and womb), to Adam's temptation (Garden), in Hebrews 2:14-18. Jesus was a better Adam, then a better Abel, and then a better "son of God," [3] a priest king after the order of Melchizedek, a priesthood of all nations:
Since therefore the children share in flesh and blood, he himself likewise partook of the same things, that through death he might destroy the one who has the power of death, that is, the devil, and deliver all those who through fear of death were subject to lifelong slavery. For surely it is not angels that he helps, but he helps the offspring of Abraham. Therefore he had to be made like his brothers in every respect, so that he might become a merciful and faithful high priest in the service of God, to make propitiation for the sins of the people. For because he himself has suffered when tempted, he is able to help those who are being tempted.
So, the blessing upon the Gentiles was not a fertility which they already possessed. It was the removal of the fear of death. Israel bore their barrenness as a substitute, and then Jesus, as Israel, bore their death as well. The significance of the womb of Sarah and the tomb of Sarah were united in Christ. The very Land itself shook with birth pangs at His resurrection, and again just before the first resurrection, as Jesus predicted. There was never any need for a sign upon infants. There was a sign upon all Abrahamic males as  Cains who received God's mercy and subsequently enjoyed the restoration of the fruit of the Land.
Now that the seed had come, and the old Land had "given birth," a new sign was required, a sign which pictured a new Land rising from the abyss, a heavenly country. The New Covenant, and its sign, are not about the fertility of Christian wombs but about the fertility of Christian tombs. This is not hard to understand.
Baptism has nothing to do with physical fertility, but that is where the baptismal regeneration of the Federal Cision, er, Vision, takes us. A Federal Vision friend recently celebrated the birth of another child, and commented that this birth was another victory against Satan. That floored me, but this is surely the next logical step. The second and third generations of the Federal Vision are not going to be scared to claim the crazy things that the first generation would be reluctant to say out loud.
To claim that a baptized infant is "righteous" is not only to misunderstand and misrepresent baptism (and thus misrepresent the Gospel itself) but to misunderstand and misrepresent Circumcision as well.
_____________________________________
[1] See "Kids in the Kitchen: Passover in the Motherland" in God's Kitchen: Theology You Can Eat & Drink.
[2] The New Covenant didn't institute a refurbished distinction concerning offspring and territory, which is why paedobaptism historically has always been perverted into religious nationalism, the "Cainite" kingdom of the Herods, and indeed the very same offer which Satan made to Jesus in the wilderness. The reason this will always occur is because it is inherent in the "tribal"nature of the rite.
[3] Genesis 6 concerns the priestly line of Seth intermarrying with the godless, autonomous Cainite kingdom, which brought about the end of all flesh.