From God, the Christian Socialist and the Mad Monk by Chris Uhlmann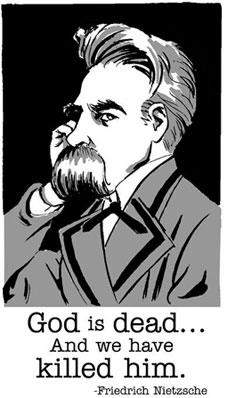 It might irk many to hear it but Judaeo-Christian morality is a foundation stone of Western democracy and, before we pull it out, perhaps we should ponder its strengths as well as its weaknesses. Because the West still hasn't found an answer to the questions Friedrich Nietzsche's fool posed in 1882.
Nietzsche wrote of the lunatic "who lit a lantern in the bright morning hours, ran to the marketplace and cried incessantly, 'I seek God! I seek God!' As many of those who do not believe in God were standing around, just then he provoked much laughter.
"Why did he get lost?" said one. "Did he lose his way like a child?" said another. "Or is he hiding? Is he afraid of us? Has he gone away on a voyage? Or emigrated?
"Thus they yelled and laughed.
"The madman jumped into their midst and pierced them with his glances.