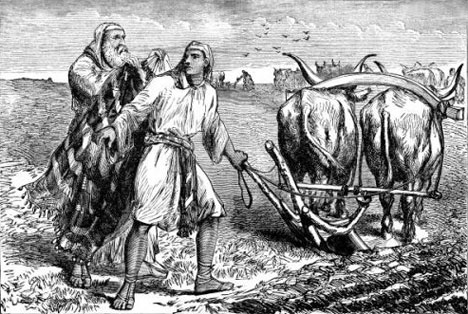 Was plowing with twelve yoke of oxen (1 Kings 19:19-21) something out of the ordinary? If not, why is it mentioned?
Elisha was not plowing alone. Arab farmers worked together for social and security reasons, and a single plow was not very effective. Barbara Bowen writes:
We are apt to think that he had a team of twelve yoke of oxen with which he was working, but the picture is of twelve separate plows following one after another as closely as possible. We have seen a dozen of them work like this.

Now the arable land of nearly all villages is cultivated in common. The Arab farmers delight to work together in companies, partly for protection, but more for their great love of gossip.

Their small plows make no real furrow, but merely scratch the soil, so any number may follow after, each making his own scratch, and they go back and forth until the whole piece of land is plowed. It was well that Elisha was last, for they may not pass one another. We can believe that Elisha's oxen and plow were like the ones in Palestine today. The people worked in companies then as they do now, and for the same reasons. [1]
If plowing with multiple oxen was no big deal, what is the significance of their number? Continue reading